LAS VEGAS,  (Reuters) – An Oregon woman accused of plowing her car into a crowd on the Las Vegas Strip, killing one person and injuring dozens, was charged with murder yesterday as investigators sought clues to what motivated the rampage.
Lakeisha N. Holloway, 24, who was arrested after the incident on Sunday, has been charged with one count of murder through use of a deadly weapon in the death of a 32-year-old Arizona woman who was in the crowd.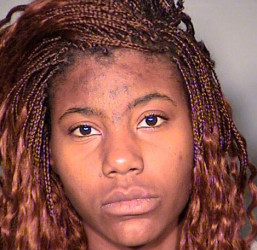 Holloway, due for her first court appearance on Wednesday, was being held in a "medically restricted" jail unit set aside for inmates requiring increased supervision, including those on suicide watch, according to Las Vegas police spokesman Michael Rodriguez.
Clark County District Attorney Steve Wolfson said he expected additional charges to be brought against Holloway as the investigation unfolds.
"This is a horrendous and inexcusable act that has needlessly and tragically impacted countless lives," Wolfson said in a statement.
Authorities said Holloway had been living in her car in Las Vegas for about a week with her 3-year-old daughter and had been driving on a suspended Oregon license.
In addition to murder, she has been charged with child abuse or neglect, and with leaving the scene of a collision, according to the criminal complaint filed in Clark County court.
Around the Web