(The Sports Xchange) – Derrick Rose scored 30 points to lead the Chicago Bulls to a 113-98 points win over the Cleveland Cavaliers.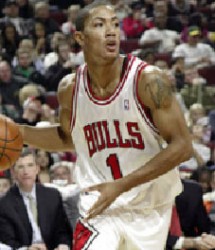 Pau Gasol added 18 points and 10 rebounds for his 14th consecutive double-double, which is the best mark in the NBA this season. Forward Tony Snell contributed 22 points for the Bulls (34-20), who posted their fourth consecutive win.
LeBron James led the Cavaliers with 31 points on 12-of-26 shooting from the field. Guard Kyrie Irving added 17 points for Cleveland (33-22), which lost for only the second time in the past 16 games.
A shallow frontcourt hindered Cleveland. Forward Kevin Love sat out because of an eye injury and center Timofey Mozgov played in foul trouble for much of the game.
An aggressive drive by Rose in the final seconds of the third quarter gave the Bulls an 87-77 lead heading into the fourth quarter. Rose sprinted past Cavaliers guard Iman Shumpert and split two defenders in the paint for an up-and-under layup to increase the lead to double digits.
Around the Web