BRIDGETOWN, Barbados, CMC – Trinidad and Tobago Red Force produced a sterling fightback to limit Barbados Pride but then suffered a batting meltdown, to concede the advantage on the second day of their sixth round match here yesterday.
The visitors managed to bowl Barbados out for 275 after the hosts resumed on an ominous 246 for four, with leg-spinner Imran Khan snaring four for 65 and fast bowler Shannon Gabriel, three for 40.
Red Force then squandered a position of 68 for one to be dismissed for 218, with opener Evin Lewis top scoring with 43, captain Jason Mohammed getting 32 and Jeremy Solozano, 30.
They were undermined by impressive seamer Carlos Brathwaite who picked up four for 65 and off-spinner Roston Chase, who finished with three for 14.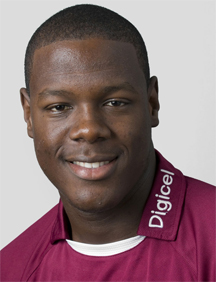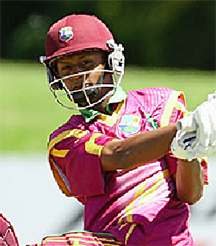 Batting a second time with a lead of 57 runs, Barbados were 15 without loss from the three overs available before the close at Kensington Oval – an overall lead of 72 heading into Sunday's penultimate day.
Red Force produced a valiant performance in the morning session to claim the last six Barbados wickets for just 29 runs, to end the innings just over half-hour before lunch.
Wicketkeeper Shane Dowrich added just nine runs to his overnight 83 while Chase, unbeaten on 85 at the start, failed to add.
Chase fell in the day's third over, caught at the wicket by a diving Stephen Katwaroo off Gabriel with just four runs added, and Carlos Brathwaite was taken in the deep soon after for four, swinging at the same bowler.
Dowrich, eyeing his third first class hundred, then played onto pacer Marlon Richards, as the slide continued for Barbados Pride.
When Red Force batted, Lewis and Imran Khan (5) posted 31 for the first wicket, as they went to lunch at 26 without loss.
After the break, Imran Khan was well caught at point by Jomel Warrican off speedster Miguel Cummins, paving the way for Lewis and Yannick Ottley (6) to add a further 37 for the second wicket.
Lewis and Ottley fell in successive overs from Carlos Brathwaite to leave Red Force on 70 for three, and Mohammed then anchored two crucial stands to keep his side afloat.
He put on 32 for the fourth wicket with Yannick Cariah (17) and 48 for the next wicket with Solozano, to push T&T up to 150 for four at one stage, 45 minutes after tea. However, once Solozano edged Carlos Brathwaite to Ashley Nurse at slip, the innings went into terminal decline and T&T lost their last six wickets for 68 runs.
SCOREBOARD
BARBADOS PRIDE 1st Innings
(overnight 246 for four)
*K. Brathwaite c wkpr Katwaroo b Gabriel                                        40
K. Corbin b Khan                                                                             22
K. Edwards c Lewis b Khan                                                              0
S. Hope b Hosein                                                                           13
R. Chase c wkpr Katwaroo b Gabriel                                                 85
+S. Dowrich b Richards                                                                92
C. Brathwaite c Hosein b Gabriel                                                         4
A. Nurse lbw b Khan                                                                         14
T. Best c Ottley b Richards                                                                0
J. Warrican not out                                                                          0
M. Cummins b Khan                                                                         0
Extras (b2, nb3)                                                                                 5
TOTAL (all out, 106.5 overs)                                                     275
Fall of wickets: 1-25, 2-29, 3-58, 4-93, 5-250, 6-250, 7-269, 8-275, 9-275
Bowling: Gabriel 19-8-40-3 (nb3); Richards 21-4-66-2; Khan 24.5-5-65-4; Hosein 24-4-58-1; Davis 6-1-16-0; Mohammed 1-0-3-0; Cariah 11-4-25-0
TRINIDAD & TOBAGO RED FORCE 1st Innings
E. Lewis c Chase b C. Brathwaite                                                     43
I. Khan c Warrican b Cummins                                                     5
Y. Ottley c wk Dowrich b C. Brathwaite                                        6
Y. Cariah lbw b Nurse                                                                 17
*J. Mohammed c Nurse b C. Brathwaite                                         32
J. Solozano c Nurse b C. Brathwaite                                                 30
A. Hosein c Nurse b Chase                                                              25
+S. Katwaroo c & b Chase                                                              22
D. Davis c Hope b Chase                                                               0
M. Richards not out                                                                         7
S. Gabriel run out (Chase)                                                                6
Extras (b9, lb4, w1, nb11)                                                               25
TOTAL (all out, 60 overs)                                                            218
Fall of wickets: 1-31, 2-68, 3-70, 4-102, 5-150, 6-151, 7-196, 8-198, 9-211
Bowling: Best 10-2-31-0 (nb1); Cummins 11-1-30-1 (nb10); C. Brathwaite 13-3-50-4 (w1); Warrican 13-1-49-0; Nurse 8-0-31-1; Chase 5-1-14-3
BARBADOS PRIDE 2nd Innings
*K. Brathwaite not out                                                                       5
K. Corbin not out                                                                             4
Extras (b4, lb2)                                                                                 6
TOTAL (without loss, 3 overs)                                                         15
Bowling: Gabriel 2-0-8-0, Hosein 1-0-1-0
Position: Barbados lead by 72 runs.
Umpires: L. Reifer Jr, C. Taylor (Jamaica)
Around the Web