When Guyana's speed demons wing out to Jamaica for the first leg of the Caribbean Motor Racing Championships (CMRC), they will be doing so free of cost on Fly Jamaica.
This was disclosed yesterday during a media briefing at the Guyana Motor Racing and Sports Club (GMR&SC) on Albert Street.
According to Marketing Manager of the airline, Nadine Hing, Fly Jamaica's sponsorship package to the club, will be 40 tickets which are reserved for the races and the management team attending the February 28 to March 1 event at the JamWest Speedway.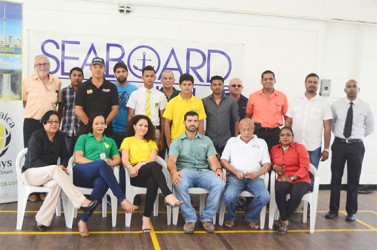 Meanwhile, president of the Caribbean Motor Racing Association (CMRA), Ray Rahaman disclosed that the event will be expanded to include more territories.
"Other countries in the Caribbean have asked to join our series and we have obliged."
Kristian and Kevin Jeffrey along with Danny Persaud will represent Guyana in the Group 4 category while the Group Three comprise Afraz Allie and Rameez Mohammed.
The lone Group 2 entrant is Chet Singh.
The bikers will be spearheaded by Stephen Vieira and includes Elliot Vieira, Kevin Persaud and Paul Yearwood.
Guyana's contingent departs on February 26 for the weekend long activities at the Montego Bay based circuit.
Kevin Jeffrey disclosed that the Discovery Channel will be airing the Group 4 races.
Around the Web