Guyana Jaguars Captain Leon Johnson credits disciplined batting and bowling performances as the factors responsible for the local side maintaining their number one spot in the ongoing West Indies Cricket Board (WICB) Professional Cricket League (PCL) Regional Four Day tournament so far.
The 27-year-old West Indies Test and One Day International (ODI) batsman, during an interview with the Stabroek Sports said that Guyana had "Maintained good discipline in all departments," which he opined was the main reason for their dominance this season in both Regional competitions.
"That (discipline) has led to our success so far," said Johnson, who lauded the team for its incredible run over the past three rounds after whipping Jamaica, Leewards and Barbados on their respective home grounds.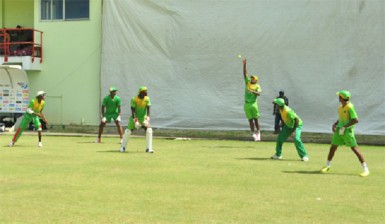 "The performances in the last three rounds have been superb taking into consideration they have all been away and two of them have been in the toughest places to play, Jamaica and Barbados," said the skipper.
The next assignment for the table leaders is a highly anticipated return match against the out-of-form Jamaicans who, the last time the two sides met at Sabina Park, Kingston, were handed a 105-run thumping by the Jaguars.
In that match Veerasammy Permaul scored a first innings 86 and ended with six wickets.
Regarding this week's encounter with the Jamaicans on home soil at the Guyana National Stadium, Providence, Johnson admitted that the locals were in high spirits.
"The mood in the team is great heading into the Jamaican clash, the confidence level is high amongst the team coming off the successful run chase on the last day against Barbados," he added.
Apart from the nightmare loss to Barbados Pride at the National Stadium, Providence, last year during the first leg of the current four-day tournament, Guyana has been the team to beat and the team whose balance has been exhibited during sterling performances by both batsmen and bowlers.
With players such as Narsingh Deonarine who has scored two centuries and narrowly missed a third in the previous game, Shiv Chanderpaul's stability and form gluing the middle order and batsmen like Vishaul Singh, Rajendra Chandrika, Chris Barnwell and others hitting form, along with spinners Davendra Bishoo and Permaul who have been the main wicket takers, Guyana will certainly have their tails up for the remainder of the four-dayers.
The former West Indies U19 skipper however, dismissed any of the aforementioned points as reasons necessary for the Jaguars to in any way be unorthodox against the Jamaicans come this Friday.
"Our approach will be as per normal, assess the opposition and the conditions at Providence and plan our game to suit," Johnson explained.
Around the Web