Veerasammy Permaul picked up five wickets and Davendra Bishoo four as the Guyana Jaguars restricted Jamaica to a first innings score of 258 in round eight of the Professional Cricket League (PCL) Regional Four Day tournament played at the Guyana National Stadium, Providence.
The two West Indies spinners shared nine wickets between themselves with Permaul bagging his third five-wicket haul of the tournamnet ending with first innings figures of 31.1-8-77-5, picking up his 51st wicket of the tournament while the leg-spinner Bishoo grabbed 25-7-62-4, taking his overall tournament tally to 40.
At stumps, Guyana were 35-0 off nine overs trailing by 223 runs in pursuit of the Jamaicans first innings total with openers Assad Fudadin (18) with two fours looking aggressive upon his return to the side following his finger injury and the in-form Rajindra Chandrika hitting three foours in his 16.
The two batsmen both looked solid heading into the second day today.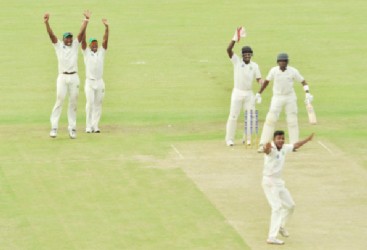 The visitors were indebted to knocks from Jermaine Blackwood, the West Indies Test batsman who cracked a brisk 48-ball 54, his 13th First-Class half century which was decorated with 10 authoritative fours. He added 88 runs for the second wicket with opener John Campbell who scored an elegant 69-ball 48 with two sixes and four fours.
West Indies wicket-keeper/batsman Chadwick Walton constructed a top score of 58 after batting some 136 minutes and 105 balls striking eight fours.
There were also contributions from Captain Tamar Lambert who struck four fours and a six in his 34 and Brandon King (27) with four fours and a six, who helped their team to a respectable first innings score.
Earlier, the Jaguars, who rested Raymon Reifer and Keon Joseph, benefited from an early strike by Chris Barnwell (1-28) who had opener Shacaya Thomas caught by Vishaul Singh for one as the Jamaicans lost their first wicket for a run. However, Campbell and Blackwood consolidated after the loss during their half-century partnership stand.
The Jamaican pair of young stroke-makers imposed their wills on the Jaguars bowlers who seemed less effective after acquring their first breakthrough earlier while the introduction of Bishoo and Permaul was also negated for a decent period before the latter struck with a deilvery which caught Campbell by surprise, resulting in a good catch by Rajendra Chandrika.
The Test batsman continued his innings and reached his 30th First-Class half-century in quick time. However, his dreams of reaching three figures was cut short by Permaul who served up a magic ball which found the edge of the bat and the gloves of wicket-keeper Anthony Bramble.
With the score 109 for 3 and the two premier run scorers back in the pavilion, skipper Lambert and Walton joined forces to take the score to 113 for 3 at the lunch interval. Upon the resumption of play the pair again sought to frustrate the bowlers and they took the score to 150 after some 40 overs of play with both batsmen scoring at a decent rate.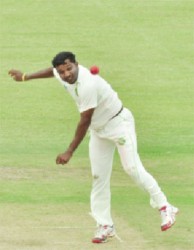 The partnership of 76 was broken when a loose shot from the Captain off Permaul was comfortably taken by Shiv Chanderpaul at mid-off but the Jamaicans were still comfortably placed on 185 for 4.
King then walked out to partner Walton who raised his half-century off 115 balls with a square drive off Beaton, taking the team's score past the 200-run mark and at tea, the visitors were well placed on 214 for 4 with King on 19 and Walton looking solid on 52.
Permaul grabbed his fourth victim during the resumpion of play, two overs into the final session when he had Walton trapped LBW after missing a sweep shot, getting struck plumb on the pads and was giving out by umpire Leslie Reifer.
Bishoo then came to the party in the next over, foxing King who attempted a flashy shot and was stumped by Bramble who also had Dave Bernard Jr (01) removed in similar fashion a few overs after which left the visitors on 236 for 7.
Things would continue to go the Jaguars way when the leg-break bowler would pick up his third wicket, that of Damion Jacobs who was given out leg before wicket for 07. Marquino Mindley (06), was patient but so was Bishoo who continued to put the balls in the right areas and got his man after he edged one to Bramble who completed another good catch.
Jason Dawes (13) was the last wicket to fall at the hands of Permaul who easily knocked him over to claim his fifth wicket of the match and brought the innings to an end in 80.5 of the allotted 90 overs. The actions continues at 10:00hrs today.
Scoreboard
JAMAICA 1st Innings
S Thomas c Vishaul Singh b Barnwell                                        1
J Campbell c Chandrika b Permaul                                            48
J Blackwood c wkp Bramble b Permaul                                    54
*T Lambert c Chanderpaul b Permaul                                      34
+C Walton lbw b Permaul                                                            58
B King st Bramble b Bishoo                                                          27
D Bernard Jr st Bramble b Bishoo                                               1
D Jacobs lbw b Bishoo                                                                   6
J Dawes b Permaul                                                                       13
M Mindley c wkp Bramble b Bishoo                                            4
O Browne not out                                                                            0
Extras: (b6, lb6)                                                                             12
TOTAL: (all out, 80.3 overs)                                              258
Fall of wickets: 1-1, 2-88, 3-109, 4-185, 5-230, 6-233, 7-236, 8-241, 9-246, 10-258.
Bowling: Beaton 12-1-45-0, Barnwell 4-1-28-1, Deonarine 8-0-34-0, Permaul 31.3.-8-77-5, Bishoo 25-7-62-4.
GUYANA 1st Innings
R Chandrika not out                                                                      16
A Fudadin not out                                                                          18
Extras: (nb1)                                                                                    1
TOTAL: (without loss, 9 overs)                                                    35
Bowling: Mindley 4-1-17-0, Dawes 4-1-13-0, Bernard 1-0-5-0.
Position: Guyana trail by 223 runs with all 10 wickets intact.
Toss: Jamaica.
Umpires: Nandkumar Shivsankar, Leslie Reifer.
Around the Web