Guyana will commence their three-match International basketball series against Caribbean Basketball Confederation (CBC) rival Bermuda today at the Cliff Anderson Sports Hall on Homestretch Avenue.
The local senior men's side views the series as preparation for their possible participation in the 2015 CBC Championships in Tortola, British Virgin Islands (BVI).
The second and third fixtures of the tour will take place tomorrow and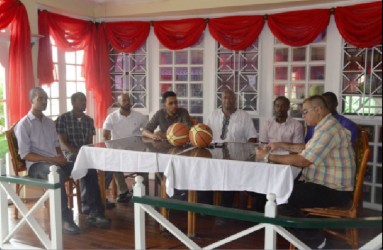 Saturday at the same venue.
Yesterday the Guyana Amateur basketball federation named Akeem Kanhai as captain of the team which will include Jermaine Slater, Terron Welch, Travis Burnett, Dave Causeway, Ryan Gullen, Stephon Gillis, Randy Richardson, Dominique Vincente, Neil Marks, Rodwell Fortune, Jason Squires, Royston Siland, Shelroy Thomas, Ryan Stephney and Nikkoloi Smith.
Darcel Harris, Marlon Rodrigues and Junior Hercules will serve in the positions of Head Coach, Assistant Coach and Team Manager respectively. The match day team of 12 players will be selected from the above squad.
Speaking at a press conference yesterday held at the Windjammer Hotel, GABF President Nigel Hinds welcomed members of visiting Bermudian unit while noting the team has been preparing arduously for the impending challenge.
"We have been bereft of this type of competition that will give our players exposure to quality basketball and players that I have been told toured Europe and we look forward to exciting basketball," said the former national hockey and basketball player.
Head-Coach Harris, during a brief comment declared that his charges were raring to go. "So far we have gone through some good practice session and will have a revision tonight and a shoot around in the morning.
"The guy's will be ready to go, they guys are hungry and you can expect 200% from us on game nights," he added.
Quizzed about the team's make up given the lack of genuine centers, Harris said: "In the local game, there's a shortage of quality big men and it would've been too difficult working with the others based on the time we had.
"Shane Webster is out so we went with the other four dominant big men that we've seen in Guyana for the longest while. We're looking to play up tempo basketball, that's the reason for the young guards as well as some experience guards."
While the entire Bermuda team had not arrived on local shores at the time of the briefing, Co-Captain Chris Crumpler said: "Thank you to the GABF on behalf of the rest of the team and Head Coach Roderick Spencer.
"We take this is an honour and a privilege and we look forward to the matches. It's a treat for us to be here for the first time and we're looking forward to a great series".
Bermuda's touring party which will be led by Head Coach Roderick Spencer and his assistant Gavin Mackenzie, will feature players Husayn Symonds, Jamie Cedenio, Jason Lowe, John Lee, Jonathan Lowe, Sullivan Phillips, Kevin Stephens, Jeron Haley, Chris Crumpler and Vernon Lamb III.
Completing the management setup for the visitors are Team Manager and Bermuda Basketball Association (BBA) President Greg Todd and Team Physician Dr. Carl Mackenzie.
Around the Web