(The Sports Xchange) – Kyrie Irving scored a career-high 57 points, the top total in the NBA this season, leading the Cleveland Cavaliers to a 128-125 overtime victory against the San Antonio Spurs on Thursday night.
The Cavs point guard scored 16 in the fourth quarter and 11 in overtime. His 57 matched the record for a San Antonio opponent.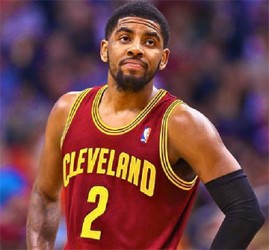 Forward LeBron James scored 31, including a jump shot with 32 seconds left in overtime that gave Cleveland a five-point lead.
Guard Tony Parker scored 31 points for San Antonio (40-24). Forward Kawhi Leonard and guard Danny Green added 24 apiece, but the Spurs lost a six-point lead during the final 31 seconds of regulation.
San Antonio forward Tim Duncan contributed 18 points, 11 rebounds, eight assists and four blocks.
Nobody could match Irving, though. Irving made a three-point play — a put-back and a free throw — that left Cleveland (42-25) trailing by four with 56.4 seconds remaining in regulation.
Parker came right back at him, hitting a jump shot with 33.9 seconds left.
Now it was Irving's turn again. He made a 3-pointer with 31 seconds remaining. The Cavs were handed a gift when Leonard missed two free throws, and Irving took advantage with a long trey before the buzzer to force overtime.
Irving hit 20 of 32 shots, including all seven of his 3-point attempts. He made 10 of 10 free throws.
San Antonio took a 64-62 lead after a first half that featured dynamic matchups at point guard and small forward.
Irving led everybody with 22 points in the half, but Parker scored 19. Parker converted nine of 12 from the field and Irving nine of 13, each with driving shots as well as perimeter jumpers.
San Antonio won at Cleveland in the teams' only other scheduled regular-season meeting, 92-90 on Nov. 19.
Around the Web