Man-of-the-match Davendra Bishoo ended with seven wickets while Shivnarine Chanderpaul scored an unbeaten half-century as the West Indies Cricket Board (WICB) Professional Cricket League (PCL) four-day match between Guyana Jaguars and the Trinidad & Tobago Red Force ended in a draw.
The fourth and final day of the ninth round came to an end with approximately 30 minutes to spare after both sides decided that a result could not be met.
Table leaders Guyana Jaguars finished with five points, taking their overall total to 128.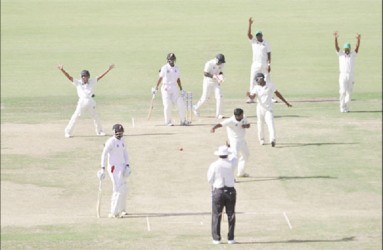 Bishoo, who bagged 6-79 in the first innings, picked up 1-16 in the second, finishing with a total of 7-95 and an overall tally of 51 wickets. The 40-year-old Chanderpaul stroked his 131st first-class fifty, 69 from 144 balls with five fours with support from Narsingh Deonarine 41 and Vishaul Singh who was stranded on 41, nine away from his fifth half-century of the tournament.
Spinners Jason Mohammed and Imran Khan both snapped up two wickets as the Jags declared on 266 for 5 in their second innings leaving the Red Force a target of 218 for victory.
The Red Force in reply were 99-3 with skipper Rayad Emrit (24*) and Mohammed (10*) when both sides decided to call off the match.
All-rounder Khan, who ended with five wickets in the match, top-scored with 40 off 60 balls with seven fours while Deonarine and Veerasammy Permaul picked up a wicket each for the Jags.
Khan and Jeremy Solozano (21) began the chase in an aggressive fashion with the former coming off the mark with a drive through the off-side for four off Keon Joseph. The fast-bowler's woes continued with some lose bowling which was put away to the fence, while a dropped catch by Bishoo at backward square robbed him of a wicket.At tea, the Red Force were 22 without loss still needing 179 runs more for a dramatic win with both openers looking positive. When play resumed for the final session of the match, skipper Leon Johnson immediately introduced his spinners and the move nearly paid off but Solozano survived a healthy appeal from Bishoo and company after it appeared that the batsman was caught by a leg-slip fielder.
The golden-arm of Deonarine then came into effect when Solozano, who struck three fours, was out leg before wicket, leaving the score 49-1.
Guyana then stole some of the momentum from Red Force when Permaul had Kjorn Ottley (01) out LBW and Bishoo had Khan caught at slip by Johnson.
However, after sensing a no-result, both side agreed to call off the match with 30 minutes of play left in the day.
Earlier, resuming at 120-3, Jaguars lost night-watchman Bishoo (06) to Charles off the first ball of the day. Deonarine, who resumed on six, struck five fours in his 41 before Khan accounted for his wicket via the LBW route.
Chanderpaul and Singh then extended the Jaguars lead to 144, taking the score to 193-5 at lunch. The session before lunch saw a bit of aggression from both left-handers who are known for watchfully constructing their innings as they sought to take on the Red Force slower bowlers.
A vicious cut shot for four off Marlon Richards brought of Chanderpaul's 50 off 117 deliveries, which he followed up another boundary in the same region as Guyana continued to stretch their lead.
Both players had a bit of luck as the Red Force fielders failed to complete catches at times when wickets were needed, thus resulting in the lead going past 200 at the first water break after lunch and with a decent enough lead of 217 and just the session after tea to try and hustle the Trinidadians, the Jags declared minutes before tea with Chanderpaul (69*) and Singh on 41 not out.
The Jaguars posted a decent 291 in their first innings after Bramble (63), Singh (52), Chandrika (51), Johnson (49) and Fudadin (44) laid the platform for their side. Trinidad in reply racked up 340 thanks to knocks form Yannick Cariah (71), Yannick Ottley (82) and Steven Katwaroo (70*).
Both sides were indebted to their spinners who did the bulk of the wicket-taking, with Bishoo and Khan both passing 50 wickets in the tournament.
Scoreboard
GUYANA 1st Innings 291
T&T RED FORCE 1st Innings 340
GUYANA 2nd Innings
(overnight 120 for three)
R Chandrika lbw b Khan                                                  31
A Fudadin b Mohammed                                                50
*L Johnson lbw b Mohammed                                        28
N Deonarine lbw b Imran Khan                                         41
D Bishoo c K Ottley b Charles                                         4
S Chanderpaul not out                                                  69
V Singh not out                                                           41
Extras (b1, nb1)                                                             2
TOTAL (5 wkts decl., 93 overs)                                    266
Fall of wickets: 1-60, 2-108, 3-111, 4-111, 5-183.
Bowling: Gabriel 11-1-35-0, Richards 11-1-40-0, Emrit 14-6-35-0, Imran Khan 20-3-67-2, Charles 20-3-50-1, Mohammed 17-5-38-2.
T&T RED FORCE 2nd Innings (target: 218 runs)
J Solozano lbw b Deonarine                                            21
Imran Khan c Johnson b Bishoo                                    40
K Ottley lbw b Permaul                                                   1
*R Emrit not out                                                            24
J Mohammed not out                                                       10
Extras (w1, nb2)                                                                 3
TOTAL (3 wkts, 32 overs)                                            99
Fall of wickets: 1-49, 2-64, 3-68.
Bowling: Joseph 2-0-22-0 (nb1), Barnwell 3-1-7-0 (w1), Permaul 14-6-29-1, Bishoo 10-5-16-1 (nb1), Deonarine 3-0-25-1.
Result: Match drawn.
Man-of-the-match: Devendra Bishoo.
Toss: Guyana Jaguars
Umpires: Lennox Abrams, Nigel Duguid
Around the Web