ROSEAU, Dominica, CMC – Another devastating spell of leg-spin from Devendra Bishoo partially overshadowed a career milestone for teammate and left-arm spinner Veerasammy Permaul, as they led a Guyana Jaguars fight-back against Windward Islands Volcanoes in the WICB PCL here yesterday.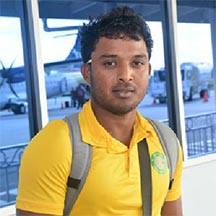 Bishoo was the more destructive of the two spinners, grabbing six for 74 from 26.5 overs, as the Volcanoes were bowled out for 283 in their first innings about 10 minutes after the scheduled close on the rain-affected opening day of the 10th round match at Windsor Park.
But Permaul covered himself in personal satisfaction, grabbing four for 64 from 24 overs to put an early hold on the record for the most wickets in a single season of regional four-day cricket.
Veteran left-handed opener Devon Smith hit the top score of 92 for the home team, narrowly missing out on his third hundred of the season, fellow opener Tyrone Theophile supported with 58 and Keddy Lesporis, batting at three, made 50.
Rajindra Chandrika was not out on one and West Indies left-hander Assad Fudadin was not out on zero, as the Jaguars reached two without loss when stumps were drawn.
Following an opening stand of 131 between Smith and Theophile, then further resistance from Lesporis, none of the other Volcanoes batsmen reached 20 under the weight of steady bowling from the Jaguars spin duo of Bishoo and Permaul.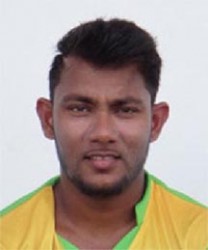 Permaul now has 63 scalps for the season, supplanting off-spinner Ryan Austin's 60 for the Combined Campuses and Colleges six years ago, and Bishoo remained in the race for the most wickets, moving his aggregate to 57.
Smith and Theophile continued their rich vein of form to carry the Volcanoes to 105 without loss at lunch before Permaul made the breakthrough after the interval.
Permaul had Theophile caught at slip before Bishoo made his presence felt with the next three wickets that sunk the hosts to 222 for four at tea.
Bishoo bowled Smith behind his back, had newcomer Jerlonie Robinson, a native of Dominica, caught on the mid-wicket boundary for seven before Lesporis was caught close to the wicket inside the final 10 minutes before the break.
After tea, Bishoo continued to mesmerise the Volcanoes batsmen, removing Currency caught at mid-wicket for 13 before the opposition were further set back, when Liam Sebastien, another Dominica native, was forced to retired hurt on 10, when he was struck on his left-hand by a rising delivery from Christopher Barnwell.
West Indies off-spinner Shane Shillingford, the hometown hero, replaced Sebastien and was soon caught at slip for a duck to leave the Volcanoes on the skids at 239 for six before a half-hour stoppage for rain offered them temporary respite.
On resumption, Permaul spun into action removing Dennis Smith for 12, Kenroy Peters for 10 and Delorn Johnson for a duck in the space of 52 balls before Bishoo brought the curtain down on the innings.
The Jaguars, the newly-minted regional champions, will be looking to underline their status as the season's best side against Windward Islands Volcanoes.
The visitors entered the match on top of the table with 130 points and the home team were third on 106 – two behind Barbados Pride.
 Scoreboard 
WINDWARDS 1st Innings
D Smith b Bishoo 92
T Theophile c Johnson b Permaul 58
K Lesporis c Singh b Bishoo 50
J Robinson c Beaton b Bishoo 7
R Currency c (sub) R Reifer b Bishoo 14
L Sebastien not out 13
+D Smith c Chandrika b Permaul 12
S Shillingford c Johnson b Bishoo 0
M Matthew c Beaton b Bishoo 18
K Peters c Deonarine b Permaul 10
D Johnson c Beaton b Permaul 0
Extras (b3, lb2, w1, nb3) 9
TOTAL (all out, 85.5 overs) 283
Fall of wickets: 1-131, 2-174, 3-200, 4-218, 5-238, 6-239, 7-253, 8-265, 9-273, 10-283.
Bowling: Beaton 13-3-44-0, Barnwell 8-0-45-0, Fudadin 2-0-14-0, Deonarine 12-1-39-0, Permaul 24-5-64-4, Bishoo 26.5-8-74-6.
GUYANA 1st Innings
R Chandrika not out 1
A Fudadin not out 0
Extras (nb1) 1
TOTAL (without loss, 2 overs) 2
To bat: L Johnson, N Deonarine, V Singh, S Chanderpaul, +A Bramble, V Permaul, D Bishoo, R Beaton.
Bowling: Johnson 1-0-1-0, Matthew 1-0-1-0.
Position: Guyana trail by 281 runs.
Toss: Jaguars
Umpires: Lennox Abraham, Christopher Taylor.
Around the Web