Despite recording an historic international series win over Caribbean Basketball Confederation (CBC) rival Bermuda in March, head coach of the Guyana men's senior programme Darcel Harris said more international exposure is needed to further analyze the capacity of the team. Speaking exclusively to Stabroek Sports, the current Ravens tactician said:" I would say even though we defeated Bermuda we still have far way to go in terms of the way we approach the game and getting the chemistry right.
"Within the next two months we will be working on those aspects of the game, hopefully we will be getting more exposure. If we get more international exposure before CBC, then we will be able to better determine where we are currently as a team. Of course they will be more overseas players joining in."
Quizzed about the criteria what will be used to shortlist the CBC bound team, Harris said: "Given the fact that we are undersized, if we could get a centre that will be able to make up with consideration.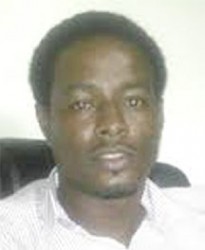 "I think we are supposed to shortlist a squad soon and the players from the Bermuda series will be returning. It's totally based on their work ethic and discipline at the practice sessions as well as their ability to be coached. "We are currently starting over at zero. In terms of narrowing down the squad, we have a while more and we would like to have more and give the players more game situations, then we can narrow down," he added.
Guyana is set to compete in the 2015 CBC Championships in the British Virgin Islands from June 16th-20th. The local unit finished fifth at the 2014 edition of the CBC Championships held in the British Virgin Islands.
Harris in his first assignment in charge of the senior setup, swept CBC rival Bermuda 3-0 in an international series held on local shores in the month of March at the Cliff Anderson Sports Hall. In the first matchup of the Goodwill Series, Guyana defeated Bermuda by a 76-73.
The Guyanese would clinch the tour in the second matchup, defeating the Bermudians 66-55. Guyana would then sweep the contest in the final showdown 59-56.
Around the Web