On the back of his recent sublime form, Team Evolution's cyclist Michael Anthony added the national time trial championship title to his collection yesterday.
The talented 19-year old wheelsman who has been on a tear in 2015, bested club mate Orville Hinds by a shade under six seconds on a cool day on the Rupert Craig Highway.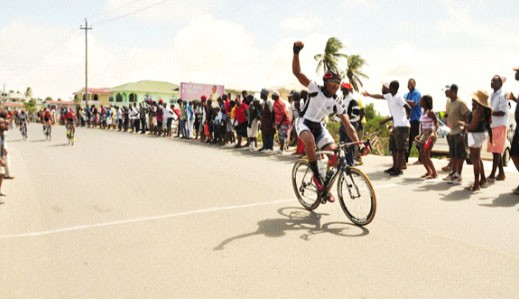 Anthony, winner of the junior category last year, stopped the clock on the flat, four-mile course from Chateau Margot to the Rubis Gas Station (before Conversation Tree) in seven minutes and 50.54 seconds.
Team Coco's Hamza Eastman was third in eight minutes flat.
Eastman's Team Coco's club mate, Jamal John took over where Anthony left off, to cart off the spoils of the junior category. John's time (8m: 13.1s) for the trek was quicker than Romello Crawford's (8m: 31.57s) by more than 18 seconds.
Andrew Hicks (8m: 37.08s) of the Ancient County, brought his talents to the city and lifted the third place trophy.
On the distaff side, UK based Claire Fraser-Green continued her one-woman show, winning the event for the third consecutive time. Fraser-Green (9m: 26.63s) who is also the national road race champion, out pedaled Marica Dick (10m: 14.16s) and Toshwanna Doris (10m: 41.29s) to claim the top honours.
For the other categories, Jaikarran Sookhai (veterans) and Brighton John (juveniles) were the top riders.
Time Trial Quick Results
Seniors
Michael Anthony (7m: 50.54s)
Orville Hinds (7m: 56.28s)
Hamza Eastman (8m: 00s)
Juniors
Jamal John (8m: 13.1s)
Romello Crawford (8m: 31.57s)
Andrew Hicks (8m: 37.08s)
Veterans
Jaikarran Sookhai (8m: 49.35s)
Lear Nunes (8m: 51.16s)
Shameer Baksh (9m: 10.25s)
Females
Claire Fraser-Green (9m: 26.63s)
Marica Dick (10m: 14.16s)
Toshwanna Doris (10m: 41.29s)
Juveniles
Brighton John (9m: 32.85s)
Kemo Logan (9m: 38.91s)
The cream of the nation's riders will now turn their attention to the open road this morning to compete in the National Road Race Championships from 7am. Geron Williams is the defending champion of the senior category. (Emmerson Campbell)
Around the Web