The Guyana Football Federation (GFF) during a simple presentation ceremony yesterday handed over 100 footballs to the Ministry of Indigenous People's Affairs for distribution among hinterland villages for the upcoming Hinterland Games in August.
At the presentation ceremony held at the ministry's boardroom, Chairman of the GFF's Normalization Committee Clinton Urling, Dr. Karen Pilgrim, Eric Phillips, Technical Director Claude Bolton and General Secretary Richard Groden made the donation after meeting with the Minister within the Ministry Mrs. Valerie Garrido-Lowe and representatives from Regions #1, #8 and #9.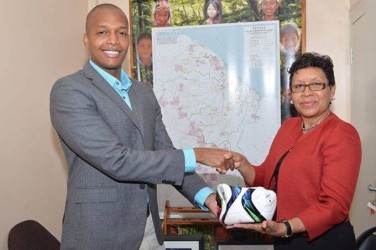 Minister Lowe during a brief address said that sports is an integral part of the lives of the indigenous peoples, declaring that football is the sport of choice due to its overwhelming popularity in the hinterland.
She noted that the hinterland possess many talented individuals who do not get the necessary recognition, pointing out that when a national team is selected, she does not see a true representation of the nation due to the lack indigenous talents.
According to the Minister, the hope is for the two entities to forge strong ties where the sport can properly be structured and developed in the hinterland area, thus providing the opportunity and avenue for the respective individuals to display their abilities.
Urling during a brief comment that due to Guyana's distinctive geography, the country has not been exposed to some of the best football displays.
He noted that believes some of the best players are from the hinterland region and the GFF under his stewardship has made attempts to expand the sport in that region.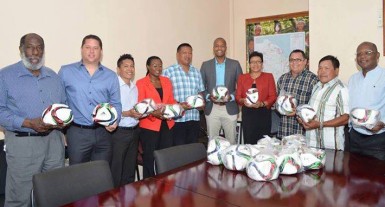 According to Urling while the GFF has only one affiliate in Region #9 to govern the affairs of football, he believes that more member associations are needed in the hinterland region and that the possibility exists the federation can establish three or four more members to assist in this process.
He said that the aim of the GFF is to provide technical support across all the regions especially in the areas that are often overlooked, noting that in his view the sport is centralized to specific areas.
"I know the balls and the equipment we're providing today is not enough to satisfy the eventual demands but it's a start and the GFF is looking forward to working with the Ministry to help in our reach of the game," he declared.
Around the Web