Dear Editor,
Over the last few years I have become more and more depressed as West Indies cricket administration has steadily fallen into greater disarray and disrepute and the West Indies team has sunk lower and lower in international standings.
I remember the joy and pride of our glory days —- now seemingly gone forever. I wonder if you would bear with me and find space to carry a lovely article I read recently by the very good writer Simon Barnes who used to be a leading sports writer in the London Times. This article which appeared in Cricinfo brought back for me, and I hope will bring back to many others the greatness of the team in which we used to take such pride.
Yours faithfully,
Ian McDonald.
By Simon Barnes
At Headingley in 1984, Malcolm Marshall summed up the fierce and terrible beauty of one of the greatest teams of them allThe most terrible thing I ever saw on a cricket field took place during the interval between innings. It involved a series of physical jerks. It was the perfect vignette of one of the greatest teams of all time. Just the sight of a player warming up was more than the England team could take.The place was Headingley, the year 1984, the opponents West Indies. England were doing okay. Certainly they were in the match despite being 2-0 down in the series. They made 270, and West Indies were making heavy weather against an inspired Paul Allott, who took 6 for 61. But even that wasn't the best news for England. Malcom Marshall was injured. He broke his thumb in two places while fielding in the gully, going after a shot from Chris Broad, and was told not to think about cricket for ten days. Thus at one stroke, the great terror of the world had been taken out of England's way. Lord, how they must have toasted Broad in the dressing room.The West Indian reply was kept on track thanks to the calmness of Larry Gomes,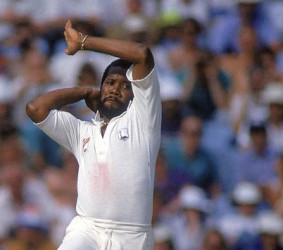 who was on 96 when the ninth wicket fell. Tough luck, that's cricket, old boy. But lo, who was this coming down to bat? It was Marshall with his arm in plaster, unable to grip a bat with his left hand. He batted one-handed, gave Gomes the support he needed to make his hundred, and hit a four himself with an inside-out forehand down the line.And that was all very diverting, but this was serious cricket and England were preparing to bat against a four-man pace attack reduced to three. And best of all, the missing man was the most frightening of the lot. England prepared to bat with hearts measurably lighter than they had been all summer.Then they looked out of the window.This was a West Indies team that prided itself on professionalism and preparation. They were outstandingly fit, all of them. But they didn't normally make a parade of it. They just got on with the job. On this occasion, they adopted a different policy.They came onto the field to do their physical jerks right in front of the England dressing room. And among them – conspicuous because of the white cast on his non-bowling arm – was Marshall. The England batsmen were certainly prepared to face Marshall under normal circumstances. True, Marshall had ended the international career of poor Andy Lloyd in the first Test, when Lloyd ducked into a non-bouncer. But facing Marshall was a challenge they were all – with different degrees of eagerness – ready to take on.So to be let off was a very wonderful thing. But to be let off and then to have the reprieve cancelled – that was an experience not a million miles from horror.I was there on that Saturday evening. There was just a short time to bowl and then a rest day – remember them? – to follow, so Marshall rather slipped himself. There were objections from the batsmen. They said he shouldn't bowl because the white cast of that flashing left arm was unfairly distracting. So Marshall covered it with Elastoplast and bowled on.He wrecked the England batting that night, taking three wickets with his speed and with the terror of his name. On Monday he came back, adapted to changed conditions and throttled back to exploit the swing. He finished with 7 for 53; England were bowled out for 159 and West Indies easily knocked off the deficit.And all this was dramatic enough, but it was really about that incomparable West Indies team of the 1980s, and the greatness of the finest bowler of them all. He was the finest exploiter of fear that cricket has ever known, but as he showed on that Monday, he was also a cricketer who used his head and a wide range of skills.Intelligence and skill weren't adjectives much used by the old-school cricket writers of the time, not when applied to West Indies. If you admired them they were a force of nature, if you had reservations they were the dark destroyers of the game we love – I.e. They didn't let white teams win.That moment at Headingley summed up the fierce and terrible beauty of that West Indian team, and the way they had the best batsmen in the world running scared. There were a thousand ramifications of all this, to do with politics and race and Empire, and all of them profoundly relevant.But as I look back on that day, I remember also a sense of mischief. A delight in messing with the heads of their opponents. And was conscious of a sense of profound privilege. Here was genuine sporting excellence. If I was picking a cricket team and had a choice of everyone who ever played, Marshall would be the first name on my list. Not least because I wouldn't want my boys to have to face him. Even with one arm.Simon Barnes is a former chief sportswriter of the Times and the author of more than 20 books© ESPN Sports Media Ltd.
Around the Web