Milerock FC were officially presented with their prizes for winning the inaugural GTT/Limacol Football Championship at a presentation ceremony held at the Brandsville Hotel on Wednesday.
Milerock defeated Victoria Kings 4-3 on penalty kicks after normal time finished 1-1 to clinch the title and the $500,000 first prize. Victoria Kings received the runners-up trophy and $250,000.
In the third position, Topp XX pocketed $125,000 and a trophy while Winners Connection collected $75,000 and the respective accolade.
On the individual side, Clarence Huggins of Milerock was adjudged the Most Valuable Player (MVP) and received $40,000 while team-mate Martin Leacock collected the best goal-keeper accolade and $25,000.
Similarly, New Amsterdam United's Adrian Adonis collected the highest goal scorer award with seven conversions and $25,000 while Brian Joseph of Milerock walked away with the best coach accolade and $25,000.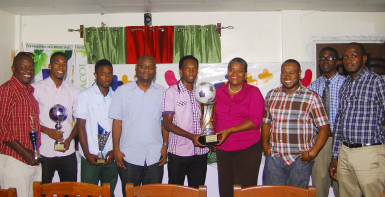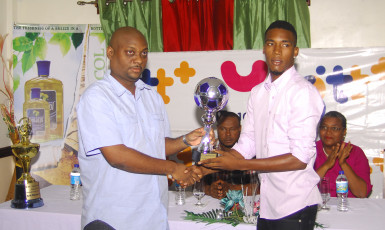 GTT Public Relations Officer (PRO) Allison Parker said that the Petra Organization must be commended for the excellent programme delivered, noting that all promotional groups should try and emulate the entity whom she described as "determined, disciplined and they always deliver".
She further congratulated the competing teams as well as the eventual victor Milerock, noting that she hopes the event continues for the foreseeable future as it can only go from strength to strength.
Guyana Football Federation (GFF) Communications Director Rawle Toney said that the tourney is a welcome addition as it provides an avenue for teams that are not participating in the Elite League to compete.
According to Toney, the GFF is looking forward to working with the Petra Organization to develop the event, declaring the tourney has surpassed the expectations of the organizers evident by the finale and that the GFF is happy to see football being played.
Tourney Coordinator and Co-Director of the Petra Organization Troy Mendonca said while the entity's mandate at the beginning was to revitalise football at the school level, over time the group has realised there are other areas that need assistance and it is willing to aid.
According to Mendonca, praise must be given to the Berbice, Upper Demerara and East Coast Football Associations for allowing their teams to participate in the event whilst acknowledging the sponsors for their invaluable contribution.
He congratulated Milerock for securing the championship even though they suffered two losses at the beginning of the event, declaring their win shows the character of the persons involved in the team and is an example of how individuals should operate.
Mendonca further said the hope is for the tournament to develop and possibly become integral to the GFF programme, declaring that despite the differences between the respective administrators of the sport, football should always be played on the field and not in the boardroom.
"I am appealing to all administrators, let football play on the field" he added. The other key sponsors of the championship were the National Sports Commission and Sterling Products.
Around the Web