Nadia Thomas Winter is the second half of Duo Collection, a designing brand she started with her niece last year, but there are other facets to her creativity.
Nadia is also an artist, working in various media: painting, drawing and graphic designs and an art teacher.
In addition she is a costume designer and has done work for Hits and Jams from 2003 to 2005. In the British Virgin Islands (BVI) where she lives, she has designed for the ministry of Education in the BVI's annual festivals and for an entertainment group called Unity Krew. She has also worked with pageants and fashion shows in the BVI.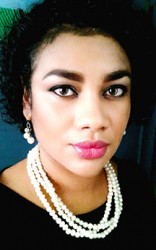 In terms of her art, Nadia noted that painting, drawing and graphic designs are her favourite areas besides designing. She had a solo exhibition last year and was able to show her Fine Arts pieces.
"My artwork tends to focus on people's emotions, with cultural influences," she said. "I love to paint and draw figures and portraits. Most of my artworks are realistic pieces." She said she is influenced by the Renaissance artists and an uncle who is a self-taught artist. "As a child, I spent many summers visiting with my grandmother who lives along the Berbice River. I stayed up late at nights to peek through the wooden rails of my grandmother's staircase to see my self-taught uncle paint, using an oil lamp as the only source of light, rendering his interruption of Jesus and other biblical themes. His work was realistically done with perfect proportion which later reminded me of the Renaissance artists. He made his own paint brushes from the stem of certain plants and worked mostly using oil paint. He was my first inspiration.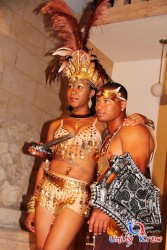 "Most of my subjects are figures, portraits and abstract art, my strengths lie in portrait painting and drawing."
Nadia also likes giving back by teaching the younger generation to embrace their creative side through the arts, hence her day job as Visual Arts teacher/ Head of Department at the Elmore Stoutt High School in the BVI. "I am able to work with 11 and 12 grade students and mould them into the direction of Fine Arts. I am also a CXC Visual Arts Marker," she revealed.
So how does Fine Arts play into her designing? "I love the arts!" she enthused. "My mother is a seamstress. She taught me to design, to make my own dolls using natural materials such as the mango seed as the head, which I later glued to corn sticks to create the rest of the body. I decorated the face with seeds and dressed it with scraps of fabrics that were left over from my mother's work. I also used pieces of braided fabric to create the hair. This lifestyle made me realize that art was all around me.
Looking back, Nadia estimates that she started designing seriously in 2000.
As an alumni of the Burrowes School of Arts and the University of Guyana, Nadia was exposed to textile design. "That course taught me how to design my own fabric, how to place motifs and beading on clothing," she said, while "drawing helped me in sketching the pieces I wanted to create." She said too that painting helped her understand colours.
Designing is something she had always loved, but had put it on the back burner for a while. "I was designing," she said, "but not as much as I should." So when she noticed that her niece, Natalya Thomas had a talent and flair for fashion designing, Nadia knew it was time to unleash her own creativity again. "Last year I decided to go all the way: commit and execute…. We created the brand Duo Collection. We are working on a Duo Collection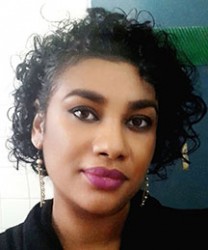 Studio where we will be manufacturing our own designs out of Guyana. Our website will be up and ready by the end of April. However we are currently taking orders through our Facebook page 'Duo Collection' and by phone.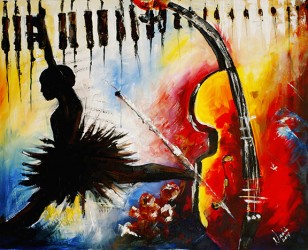 Once the Duo Collection brand is established in Guyana and the Caribbean, Nadia and Natalya will attend to its long-term goals, which are to be the leading producer of customized women's clothing in Guyana by establishing a professional clothing company and tapping into the international market and to be the first choice for fashion lovers by paying keen attention to quality products and craftsmanship. "Duo also plans to work with different charity organizations by making awareness of the cause and denoting money to assist," she said.
Asked which international designer she would love to create with if given the choice, Nadia could not pin it down to just one. "I love Michael Costello," she said. "The fact is that he is fresh; his clothing line is elegant and sexy. I also love Elie Saab Haute Couture. The details on their fabric and pieces are breathtaking. I would love to work with them some day. Isabel Toledo, she is a Cuban-born designer out of New York, who is known for her artistic bent and her fine craftsmanship. She has been in business more than 25 years, but may not have the name recognition outside of the fashion world partly because she doesn't do fashion shows. Her artistic flare really shines through her work."
Nadia loves vintage and elegant clothing, also details of embellishments to enhance clothing. So does she follow trends? "I keep up with all the new couture pieces. There are so many amazing designers and trendsetters out there I would be insane to not follow the trends, but I also like to stay close to the basics. I like Rihanna's cutting edge. But I truly admire the clean lines of say a Donna Karan or an eclectic of a Kate Moss or the sophisticated style of Aishwarya Rai Bachchan. She is simply beautiful and embraces her culture. I get inspiration from my sisters they all have different styles," she said. "Trends are important and I do follow them but my inspiration is all around me."
And what are we likely to find in Nadia's wardrobe in terms of shoes, bags, jewellery, hats or other accessories? "My wardrobe is a mixture of designers such as Calvin Klein, Michael Kors, Chinese Laundry, Nine West and Chanel," she revealed.
Nadia is married and has been for almost 12 years. She has three children: two boys and a girl ages 6, 11, and 15. The girl is the youngest. She describes herself as a quiet and simple everyday person whose passion is to help promote the arts, charities and be a positive influence to our youths and women through her talent.
Around the Web