This evening from 6 until 9 pm artist Kodzo Wilkinson invites all to take 'A Walk With Me' at the Princess Hotel where he will exhibit some of his work.
He said the theme, 'A Walk With Me' relates to his progression in his semi-abstract work and features pieces done from his first exhibition in Suriname last year, to now.
Kodzo is a Surinamese national. He was born there to Guyanese parents, but considers himself a Guyanese, since most of his time is spent here.
Kodzo graduated from the Burrowes School of Art in 2004. During his last year at Burrowes, he taught at Queen's College to help fund the materials he needed for his work and graduation. He majored in painting with a minor in graphics.
Not very long after, he went on to teach at Marian Academy, where he remained for eight years, resigning in 2013 to follow his dream of becoming an artist.
He said that while he was at the Caribbean Festival of Arts (Carifesta) on Suriname he met many different artists who inspired him. He became motivated and immediately after started on a few of his pieces. At his first exhibition, 25 pieces of his artwork were on display. He also participated in the Annual Art Fair where eight of his pieces were featured and he was awarded "The Best Upcoming Artist for 2014".
Kodzo said his exhibition will feature trees. He's infatuated with trees since for him they represent "where we are today, right in the middle of (the things we were not a part of before our existence and the future speculated)." He never copies a tree but paints from his     imagination. Trees and people are his inspiration. Some of the people who inspire him are Phillip Moore, who influenced him to think outside of the box; and Charmaine Blackman ("Gee Dem Mo Fuh Talk"), who does her thing her way regardless of what people say. He says he'd like to tear a page out of her book. Frank Sinatra is another inspiration with his song "My Way".
Kodzo goes on to say, "we have so much good in us yet we refuse to share it." He said his trees depict the burdens of humanity. One of his paintings features a tree that looks like it's dying and about to sprout leaves, which he calls "limbo"; it's between two worlds, neither dead nor alive.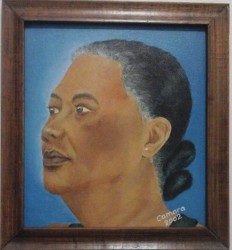 The young artist experiments with acrylic paint, kaolin (white clay) and charcoal on both front and back of his paintings.
His pieces, he explains, are not too abstract but speak for themselves. On one side his art portrays colour, while the other is in black and white, representing the negatives and positives in life.
Realism in art bores him since it's just to the point and there's nothing else to it. "Art is indefinable" Kodzo said. "Embrace being different. Why must we morph ourselves to suit others? We should always boost and encourage each other. Trees portray how humans are now, how we treat each other."
He encourages all upcoming artists to be self-assured. "Do what pleases you no matter what. Don't try to be carbon copies of others. Be original. Find what pleases you and do it to the best of your ability. Once your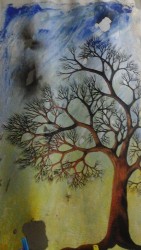 work is done with love and pleasure people will notice and appreciate it," he said.
One of his favourite quotes by Auguste Rodin is, "True artists are almost the only men who do their work with pleasure." He sees life through art and because of this he feels more connected with the world.
Kodzo thanked his family and friends, Princess International Hotel and Casino, the Gazebo Gardens and the Diamond/Grove Lion's Club. The exhibition is open to the public and free and Kodzo is expected to make opening remarks.
He can be contacted via Facebook/Kodzo Wilkinson or by email at kodzowilkinson@gmail.com. There is more information on his work on the blog: Sranan Art Xposed.
Around the Web