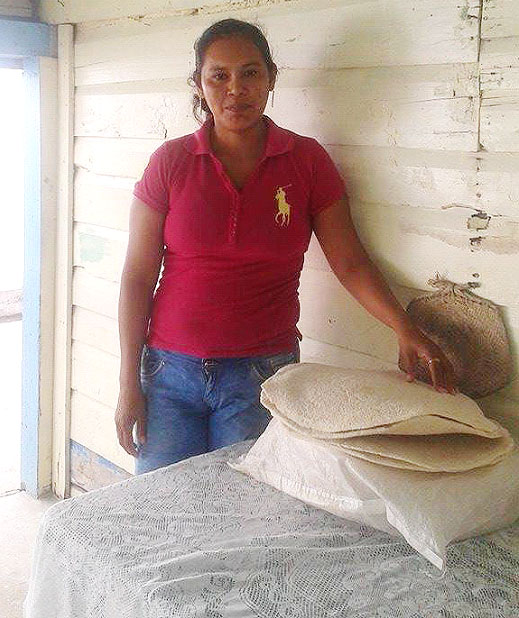 Close to the Amerindian Hostel on Princes Street, a group of enterprising representatives Guyana's indigenous community can be found been doing a brisk trade in Amerindian cuisine, mimicking the urban tradition of roadside trading in conventional creole foods.
Talk of Amerindian food conjures up images of those dishes and drinks with which coastlanders are most familiar: Cassava Bread, Pepperpot, Farine, Piwari, Parakari and Fly. But as Stabroek Business found out last week, there's more. Not least among the dishes on offer is the tasty and popular Tuma Pot; similar to Pepperpot except that the liquid which gives taste to the dish is cassava water rather than cassareep. If you go along to the area where the vendors congregate you can sample Tuma Pot at a cost of between $800 and $1,000 a serving.
There are five vendors and Stabroek Business spoke with four of them: Jennifer Nearso, Simone Nearso, Lloyd McPherson and Natasha John. Jennifer and Simone trade immediately outside the premises of the hostel. John trades opposite and McPherson a short distance away.
Patronage is modest. There has been no evidence of any aggressive marketing of Amerindian foods on the coast and this newspaper is aware of only one existing Amerindian restaurant in Georgetown. While, over time, the habit of dining out has grown in Georgetown, that habit, until now, does not appear to have extended to Amerindian cuisine. When we visited the stalls two days before Christmas six customers were 'dining' there.
We were allowed to peruse the offerings at our leisure. There was the regular fare: roasted chicken, wild meat, farine, cassareep, pepperpot, roasted beef and cassava bread. The beverages included piwari, parakari (made from cassava) and fly (made from red potatoes). The less adventurous could settle for tea or coffee attended by a range of more conventional snacks including dhal puri, buns or biscuits.
But there is no doubt that it is the Tuma Pot, primarily, that attracts the customers. The making of Tuma Pot starts with grated cassava from which the milk is extracted. The milk is processed to extract the toxins then boiled into a sauce and flavoured with pepper. Afterwards, selected meat is cooked in the sauce until it is tender. The dish is then served with either hard or soft cassava bread. Various meats—chicken, beef, fish, wild meat—are used separately in the making of Tuma Pot.
Jennifer has been plying her trade for more than ten years. She says that the best months for the trade are September and December. September is Amerindian Heritage Month and the Heritage Month Exhibition at Sophia brings something of a windfall for the vendors. Christmas is what it is.
The Amerindian vendors say that their customers are, in the main, fellow indigenous people living on the coast but yearning for a regular taste of home.
Jennifer says that in the peak months she sells sufficient to pay her rent and subsidise the purchase of school clothing and snacks for her children.
What is patently apparent, however, is that Amerindian cuisine lacks the kind of aggressive urban marketing that will increase demand in the city and its environs. The vendors outside the hostel concede that it's all about cultivating taste, though there is as yet no significant indication that restaurants and snackettes in the city are prepared to engage in even an experimental excursion of placing Amerindian dishes on their menus in a significant way.
Jennifer is regarded as something of a specialist in Amerindian drinks. She is not optimistic about patronage in January. She says that days will go by during the first month of the new year when she will not "sell a dollar." That means that she would have had to do well enough in December "to pay my bills and expenses in January." Even at the best of times there is no huge profit to be made but whatever she gets contributes to some of the bills. Her partner of four years works in the hinterland. He is supportive as far as paying the bills is concerned.
Jennifer buys and sells cassava bread. She makes around $100 on each cake of cassava bread that she sells. Her stocks come from Moruca, in Region Nine. That is where, informed Amerindians say, the best cassava bread comes from.
Farine is one of those traditional Amerindian foods that is in demand on the coast. Last week Jennifer was offering farine at $500 a pint. She had bought a consignment of the commodity for $20,000 and said that she anticipated a return of around $5,000. Last week, sales were slow and she was anticipating that her supply would take around a week to be sold.
Last week Piwari, Parakari and Fly were being traded at $800 per eight-ounce bottle and the vendors were saying that the competition from the aerated beverages was stiff. Cost, they say, is a factor. An aerated drink sells for between $140 and $200 a bottle.
Simone shares stall space with Jennifer. She commences trading around 7 am with the hope of getting as much sales as possible during the day. Her trading day ends at around 7.30 pm. She sells Tuma Pot, roast beef, chicken, fish with cassava bread along with tea and coffee. That is considered a decent spread and her customers include residents of the hostel. She offers a serving of Tuma Pot and cassava for $700.
McPherson is from Matthew's Ridge. He inherited his enterprise from his parents. They migrated from Region 1 in 2000. He is the 'cassareep man.' When we spoke with him last week he was buoyant. On that day he had sold four bottles of cassareep at $3,000 each. That, he said, was not the kind of thing that happened on most days.
McPherson is ambitious. He is seeking support to erect a permanent and secure structure, where they can store some of the stuff, and even protect them from the elements. It might well be the start of another permanent Amerindian restaurant in the city.
They spoke of paying transportation which can cost between $5,000 to $10,000 per week. Many times they find themselves digging into their pockets to subside the business.
Jennifer and McPherson favour remaining at their existing location. They are not convinced that relocation will enhance their fortunes. Princes Street, they say, has become a familiar haunt for their Amerindian customers. Their customers include a medical doctor, nurses and teachers; all of them Amerindians who live and work in the city and who frequently seek a taste of home.
Natasha John comes from Waipia Village in Region 8. She migrated to the city about 19 years ago in search of a job. She, too, sells Tuma Pot, having taken over from her ageing mother. She is also one of the three Amerindian vendors who participated in last November's Business Exposition at Sophia. That was the second outing for John and her Tuma Pot.
The dish, however, is yet to catch on outside of Amerindian communities. It is usually at the peak of its patronage during Heritage Month. Still, she plans to "have another go" if the Business Expo is repeated this year.
The previous day had been a good day for her. She had started with twelve servings of Tuma Pot on that day. By early evening all were gone. She was in high spirits. "When I do not sell anything I return home and distribute to friends and relatives," she says. She persists in the venture "to help pay the bills" and because she wants to feel independent. She is hoping that more non-Amerindians will cultivate a taste for Tuma Pot so that the market can grow.
John also makes her own cassava bread. She uses sweet cassava. Due to price fluctuations, she has established some permanent trading relationships that help keep prices stable. She buys around 80 pounds of cassava which gives her 16 huge cassava bread. That would see her through a week. For her Tuma Pot she uses hymara or basha fish that costs between $800 to $1,000 per pound. Sometimes she uses labba or deer. Those cost between $1,000 to $1,200 a pound. Those purchases are made at the Mon Repos Market.
We agreed that Stabroek Business would visit her Better Hope home to "talk more" about her business which she calls Pakariaimas Patamonans Food.
The making of both cassava bread and Tuma Pot are labour intensive. Cassava bread takes one day to make, and the Tuma Pot, which is cooked every day, is a painstaking process. At any given time, the family is making one or the other.
Price fluctuations for meat, fish and cassava notwithstanding, the vendors, somehow, maintain mostly stable price levels. It is a tribute to their determination to sustain their modest enterprises in the face of robust and unrelenting competition from other cultures.
Around the Web