Award Winning Entrepreneur, Commonwealth Business Woman Ambassador, Managing Director, GeoTechVision
In late November 2015, I was invited to be a judge in the Business Pitch Competition right here in Guyana. The competition caused me to reflect on the fact that being an entrepreneur is not an easy task. A few weeks ago, I hosted a leadership seminar titled 'What Will You Change This Year?' At that seminar many business leaders saw this new year as an opportunity to reinvent themselves and go after their truest desires, dreams and goals, and they committed to this. Just this week at the Billionaire Tour hosted by Action Coach, over 600 Guyanese gathered to hear Brad Sugars speak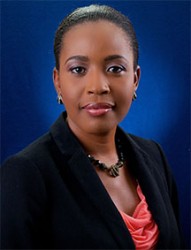 about strategies, philosophies and steps they can take in this market to make their dreams and goals a reality. These activities all led to me thinking, 'What's next for these young Guyanese who participated in the Business Pitch Competition?' Indeed, even more broadly, what are the next steps for anyone who wishes to venture out as an entrepreneur in Guyana? How can we contribute to the Entrepreneurial ecosystem? This week I write to you on creating a culture of entrepreneurship in Guyana.
Without a doubt building a culture that encourages entrepreneurial behaviour is challenging but absolutely necessary, as entrepreneurship is the engine for job creation, innovation and economic growth. A nation experiencing economic prosperity creates well-being for its citizens both directly and indirectly through access to better public services and amenities – better health services, better road infrastructure, better education, etc. Government policies that encourage entrepreneurship are therefore an absolute must. Having a clear understanding of the economics of entrepreneurship is therefore critical to unleashing the potential of the Guyanese people to create, innovate and provide solutions that meet the needs of the public. Having this kind of understanding will close the gap between the number of Guyanese who dream of starting their own business and those who actually do.
In addition to the right policy framework, there is also a great need to train the next generation of entrepreneurial leaders (yes, indeed, training is required as entrepreneurial leaders are not born), build programmes that enrich entrepreneurial skills and abilities, and strengthen the legal and cultural environment in which business creation and growth will thrive.
So let's ask ourselves – are high school graduates innovation ready? It is my opinion that in addition to the traditional subjects, students should have lessons in entrepreneurship at high schools. This will help them with critical-thinking, communication and collaboration skills that will give them the grounding to invent their own careers. Entrepreneurship education will benefit students from all socioeconomic backgrounds by teaching them to think outside the box and nurture unconventional talents and skills. It will also instil confidence in the youths and inevitably stimulate the economy. The wider entrepreneurial community will have a role to play in this by working with schools to provide the guidance, mentoring and coaching.
Is entrepreneurship encouraged in existing companies? Do employers provide an environment in which their employees can develop ideas and initiatives to grow the entity? If we are to develop an entrepreneurial culture, existing businesses must encourage employees to think and act like entrepreneurs. This concept is referred to as "intrapreneurship". Intrapreneurship is giving people the knowledge, the tools, the environment and the space to innovate. This is the way that companies such as Google and Apple have been innovating and have created a culture of innovation that has contributed to their overall success.
Innovation is the engine for economic growth according to most economists. Innovation today is available to anyone who can connect ideas in support of current or future needs and opportunities. Innovation is the product of the creative mind. Innovators overlook conventional boundaries and disrupt status quo. It should be understood that a million-dollar idea can come from anywhere; while getting groceries, while walking to work, from just about doing some of the simplest things in life. For example, Guyana has the ability to feed the Caribbean; to become the agro-processing hub of the region. What are the creative ideas that can come from this sector? I am often told of loads of fruits in season going to waste because of no buyers, while these same fruits are used elsewhere to make flavoured delights and drinks.
In the process of creating a national culture of entrepreneurship, business incubators can play an effective role. Business incubators are organizations designed to accelerate the growth and success of entrepreneurial companies through an array of business support resources and services that could include physical space, training, information on access to capital, coaching, common services, and networking connections. Incubators provide numerous benefits to owners of start-up businesses. I can attest to this as GeoTechVision benefited from being in the Technology Innovation Centre, a business incubator in Jamaica. With the support of this incubator, GeoTechVision has been able to engage clients across 15 Caribbean states in providing our products and services.
Incubators carefully screen potential businesses because space, equipment, and finances are limited, and they want to be sure they're choosing to nurture businesses that have best possible chance for success – the process is competitive.
The more we have deep conversations about a matter – the more it remains current in the minds of people. If that matter is important, as I think entrepreneurship is, the more likely that attention will be paid at all levels – government, businesses, and individuals. So let's keep the entrepreneurship agenda buzzing as we explore the economics of entrepreneurship.
Around the Web