With the initial twenty five-year contract between the Government of Guyana and Barama Company Limited due to expire on October 16, the absence of any clarity, up to this time, on the renewal or otherwise of the contract could send more than seven hundred  Guyanese employed with the company on the breadline in a matter of weeks, General Secretary of the Guyana Trades Union Congress (GTUC) Lincoln Lewis has told the Stabroek Business.
Lewis, who visited the Barama Land of Canaan offices on Tuesday where he engaged both management and workers disclosed to this newspaper that with effect from yesterday, approximately seventy Guyanese employees were retrenched in what he described as "an apparent wind down towards eventual closure" of the company's operations. "If what I see before me is a reflection of what will eventually play out I would say that we're looking at a tragedy", he said.
The veteran trade unionist told Stabroek Business that as far as he had gleaned from his exchange with the Barama officials, government had apparently provided no recent information on the status of the renewal or otherwise of the contract.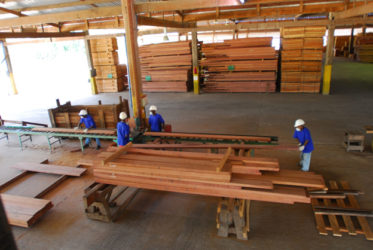 In February this year it had been disclosed that teams representing the Government of Guyana and Barama Company Limited had met to examine Barama's request for a renewal of its Investment Development Agreement with government. The Ministries of Natural Resources, Indigenous People's Affairs, Business and Public Infrastructure along with the Guyana Revenue Authority (GRA) and the Guyana Forestry Commission (GFC) were named as the state entities representing the government which was also expected to benefit from expert advice from the International Institute for Environment and Development (IIED).
With no definitive pronouncement on those negotiations having been made, government announced in July this year that a decision on the renewal of Barama Company Limited's (BCL) Investment Development Agreement had not been reached. In a statement to the Stabroek News the Ministry of Natural Resources had said that the process of renewing the agreement "has not been concluded and we prefer not to comment on specifics; except to say that we intend to conclude everything within a few weeks and government welcomes the opportunity to continue its relationship with Barama."
In a brief interview with Stabroek Business on Wednesday, Lewis said that the climate of uncertainty that had been created by the "uncertainties" arising out of the negotiations had created "an unacceptable situation" for the workers. This newspaper has seen a letter dispatched by Lewis to the Natural Resources Minister seeking an urgent meeting with him "in order to address the uncertainties pertaining to the future of more than 700 Guyanese workers."
Around the Web