Current Managing Director of Republic Bank (Guyana) Ltd Richard Sammy has been talking up both the success of the entity's banking operations in Guyana as well as the bank's contribution to the growth of the business sector here.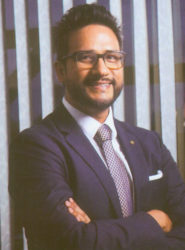 In an article published in the Jubilee Issue (1996 – 2016) of the Georgetown Chamber of Commerce publication Business Guyana, Sammy writes that between 1995 and last year, the Trinidad & Tobago-owned commercial bank increased its pre-tax profits from $14.6 million to $4.3 billion. And according to Sammy, since the bank's entry into Guyana's commercial banking sector Republic Bank has "contributed significantly to raising the standards in the country's services sector."
The Head of Republic Bank's operations in Guyana cited its "introduction of new products, enabling home ownership, channeling international remittances, fostering small and medium enterprise development and improving quality of service and access to services across the 10 administrative regions."
In his article Sammy also sought to promote the bank's social contribution through its Power To Make a Difference initiative that sees the bank engaging in humanitarian initiatives through programmes that spread awareness of autism and cancer, assist the disabled, alleviate poverty and tackle literacy and youth development.
Around the Web