Two of the most disturbing aspects abiding in mankind – egoism and racism – have been front and centre, as well back and sideways, in the recent presidential election melee raging in the USA.  Each of those conditions comes with its own set of contortions, and while one may struggle to decide which is the more evil of the two, racism is generally a much harder case to prove because the holders rarely declare themselves.
The egoist side of a person is usually much easier to detect, in that persons holding that position of superiority are seemingly unable to restrain themselves from demonstrating, or outright proclaiming, themselves as such.
Indeed, the Republican candidate in the USA presidential campaign is an almost classic example of the latter.  Donald Trump's public campaign utterances include: "I know the financial situation better than anyone, and I am the only one who can fix it."  "I can be so Presidential."  "I will negotiate with China; I am a great negotiator." "Mexico will pay for the wall.  They don't know it yet, but they will."  And on war, "I know more about it than the generals."
On the racism side, however, apart from his Muslim attack and the "Mexican rapists" blast, Trump has been appreciably more reticent in his public remarks, and that is part of the racism dilemma that potentially makes it more dangerous – it is only from a temporary lapse, or from leaked evidence, that one learns of aberrations that abide in a person.
Nobody stands up in the middle of a television programme and shouts out, "I'm racist."  No one walks around with a sandwich board declaring he/she is into pederasty, or announcing "Pornography is my thing." You never know if the guy next door is laundering money big time.  It's not as if he has a sign on his front lawn or a message telling you so on his voice mail.
You never see any fortified vehicle, with armed guards, coming and going.  It's the same way with racism.  It could, in fact, be the guy next door (actually in a place I once lived for a while, that was the case) but you often don't know until the information lands on you out of the blue like a bombshell. We are often very aware of the egotist among us, but unless some overheard comment or leaked communication comes to light, the racists do not overtly incriminate themselves.
The point I am getting at, however, is that, although more time is involved, racists eventually betray themselves through their own behaviour, and the signs are there if we are paying attention.
In the almost continuous media frenzy surrounding the recent presidential election in the USA, it was interesting how many times we would learn of the latent racism, on both sides, showing up in persons we never dreamed to be so disposed.
The bottom line here is that like so many of the nefarious sides of mankind, racism hides; it is only when circumstances ratchet up the pressure, so to speak, as in a national election, that it appears before us, fait accompli, from quarters we did not expect.
During the run-up to Guyana's most recent national election, there were three instances where this kind of revelation happened to me involving individuals I have known socially for years who I assumed to be liberal in political matters, but as the election swung into high gear, and the rhetoric grew more rabid, I was shocked to hear these persons taking strong positions, pro or con, based almost totally on racial differentiation.  The first time I heard one of these asides, I was inclined to dismiss it as an aberration, or an idle moment of negativity, but two things soon persuaded me otherwise: one was their frequency; they were coming too often, virtually daily, to be passing thoughts.
The other aspect was the stridency of the remarks; they were, as we say in the Caribbean, "coming from the belly"; these were firmly held opinions, not merely idle thoughts or musings, and attempts to dispute them only inflamed the issue.  Indeed, on two occasions, the conversation between us turned heated and angry.
These were people whom I considered friends, persons whose company I enjoyed, and all of a sudden I was seeing an aspect to them that was new to me and was, to say the least, unsettling.
In each case, I applied some forbearance at the first appearance of it, but as the reactions continued I soon came to the conclusion that this was no temporary irritation; this was a bedrock position I was encountering with these persons, and I quickly realized what I was dealing with.
It can be a jolt to encounter these positions, full blown, in persons one has known for years, but the revealing aspect here is that while racism may be submerged and therefore elude us for some time, the condition will eventually become evident when conditions arise to inflame these issues of racial separation, and the question of political power is one such.
In those circumstances, and particularly in a national election with so much at stake, as the arguments intensify with the matter of control or rule in the balance, racism shucks off its cloak of discretion and appears starkly before us; ultimately, if we wait long enough, we see that it cannot hide.  In any country one chooses, not just Guyana, where different races or tribes co-exist, the condition appears.
For a variety of obvious reasons, tribal feelings are often operating undercover, but ultimately, as we're now seeing in America, the cover is blown – racism cannot hide.
Comments
CARACAS/HOUSTON (Reuters) – Venezuela's unraveling socialist government is increasingly turning to ally Russia for the cash and credit it needs to survive – and offering prized state-owned oil assets in return, sources familiar with the negotiations told Reuters.
By Carl Bildt CHICAGO – We are now in the final days of the industrial age.

During Men's Health Week, the man/woman in the street were asked to speak on their lifestyles and what they do to maintain their health or to encourage their significant others to lead healthy lifestyles.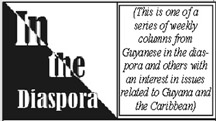 By The Caribbean Voice There are no reliable statistics on the amount of persons engaging in the use of illegal drugs or those described as addicts.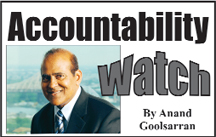 In last week's article, we referred to the two recognized methods of accounting for costs relating to the exploration, development and production of crude oil and natural gas: the "successful efforts" (SE) method and the "full cost" (FC) method.