MISS Guyana 1989 Reeya Majeed, is due back home tomorrow after appearing in this week's Miss World contest in Hong Kong.
The 21-year-old Majeed was not in the final ten at the competition which she said was tough.
Miss Poland won the Miss World title with Miss Canada second and Miss Colombia third. Only Miss US Virgin Islands from the region placed at the contest. Majeed is scheduled to leave London today for home.
Sugar levy not yet paid
GOVERNMENT has collected just under $200m from the $1.1 bln levy it has imposed this year on the Guyana Sugar corporation according to well-placed sources.
A Guysuco official however, would neither confirm nor deny the report saving only, "we have made a payment and there are still five weeks to go for the year.
The 1989 $1.1bln. levy from Guysuco has been tabulated on a formula stipulated by government. The main sugar union GAWU has however maintained the additional tax on the sugar industry is unjust and should be removed.
GAWU says the levy reduces Guysuco's profits and is the main bugbear to better wages for sugar workers.
State media working for PNC – UGJ
The Union of Guyanese Journalists (UGJ) has criticised the state-run media for functioning as propaganda for the ruling party.
The organization, of which PPP Central Executive member Mrs Janet Jagan, is president, said it recently reviewed the local media operations. It is against what it calls "partisan viewpoints" on state radio and wants the authorities to say what criteria is used to select 'viewpoint' contributors.
"The role of the Guyana and Public Communications Agency and the state-owned Chronicle newspaper as propaganda of the ruling party came under focus", at the recent meeting, the UGJ said.
Union General Secretary, Mr Moses Nagamootoo, in the meantime, is to represent the group at a journalism conference in Jamaica next month. The Press Association of Jamaica, the Caribbean association of Media Workers and the National Association of Black Journalists of the US are sponsoring a National Journalism Week in Jamaica, December 3-9.
UGJ has also announced it will next year be co-hosting the International Organisation of Journalists, a workshop of journalism and the struggle for human rights.
A look at the old City Council
As the new one prepares to take over
INTRODUCTION: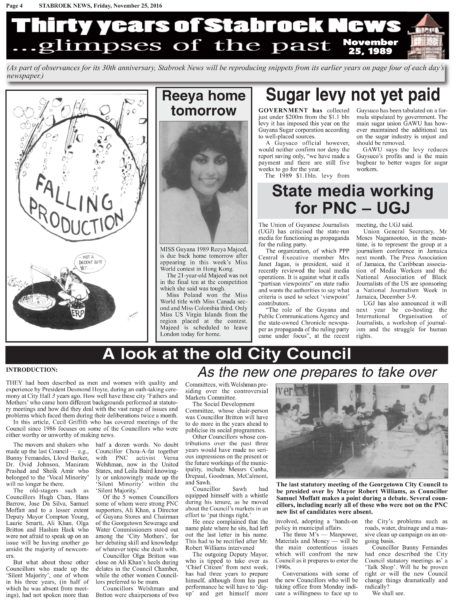 THEY had been described as men and women with quality and experi­ence by President Desmond Hoyte, during an oath-taking ceremony at City Hall 3 years ago. How well have these city 'Fathers and Mothers' who came horn different backgrounds performed at statutory meetings and how did they deal with the vast range of issues and problems which faced them during their deliberations twice a month.
In this article, Cecil Griffith who has covered meetings of the Council since 1986 focuses on some of the Councillors who were either worthy or un­worthy of making news.
The movers and shakers who made up the last Council — e.g., Bunny Femandes, Llovd Barker, Dr. Ovid Johnson, Maniram Prashad and Sheik Amir who belonged to the 'Vocal Minority' will no longer be there.
The old-stagers such as Councillors Hugh Chan, Hans Barrow, Jose Da Silva, Samuel Moffatt and to a lesser extent Deputy Mayor Compton Young, Laurie Smartt, Ali Khan, Olga Britton and Hashim Hack who were not afraid to speak up on an issue will be having another go amidst the majority of newcomers.
But what about those other Councillors who made up the 'Silent Majority', one of whom in his three years, (in half of which he was absent from meetings), had not spoken more than half a dozen words. No doubt Councillor Chou-A-fat together with PNC activist Verna Welshman, now in the United States, and Leila Baird knowingly or unknowingly made up the 'Silent Minority' within the 'Silent Majority.'
Of the 5 women Councillors some of whom were strong PNC supporters, Ali Khan, a Director of Guyana Stores and Chairman of the Georgetown Sewerage and Water Commissioners stood out among the 'City Mothers', for her debating skill and knowledge of whatever topic she dealt with.
Councillor Olga Britton was close on Ali Khan's heels during delates in the Council Chamber, while the other women Councillors preferred to be mum.
Councillors Welshman and Bntton were chair­persons of two Committees, with Welshman presiding over the controversial Markets Committee.
The Social Development  Committee, whose chair-person was Councillor Britton will have to do more in the years ahead to publicise its social programmes.
Other Councillors whose contributions over the past three years would have made no serious impressions on the present or the future workings of the municipality, include Messrs Cunha, Drepaul, Goodman, McCalmont, and Sawh.
Councillor Sawh had equipped himself with a whistle during his tenure, as he moved about the Council's markets in an effort to 'put things right.'
He once complained that the name plate where he sits, had left out the last letter in his name. This had to be rectified after Mr. Robert Williams intervened
The outgoing Deputy Mayor, who is tipped to take over as 'Chief Citizen' from next week, has had three years to prepare himself, although from his past performance he will have to 'dig-up' and get himself more involved, adopting a 'hands-on policy in municipal affairs.
The three M's — Man­power, Materials and Money — will be the main contentious issues which will confront the new Council as it prepares to enter the 1990s.
Conversations with some of the new Councillors who will be taking office from Monday indicate a willingness to face up to the City's problems such as roads, water, drainage and a massive cleanup campaign on an on-going basis.
Councillor Bunny Fernandes had once described the City Council statutory meetings as' a 'Talk Shop'. Will he be proven right or will the new Council change things dramatically and radically?
We shall see.
Around the Web