REPAIRING, mak­ing or selling spares for kerosene stoves are good things to be doing these days. Reginald Charles and Benny Burnette who do this type of work at the corner of Regent Street and Orange Walk think they are in a good trade.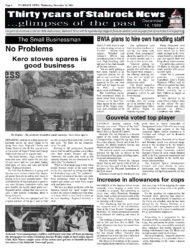 "We make burners, rings, covers, bottoms and some other spares for any type of kero stove and we also make lamps, plant pots, ice trays and cake and bread pans," Reginald declared.
He feels that the busi­ness is going well be­cause stove owners cannot buy imported spares from stores and so they resort to buy­ing it from local manu­facturers. "The unavail­ability of imported parts is good in one sense because custom­ers realise just how dur­able the locally-made parts are," Reginald noted, adding that whenever he sells a part nobody complains about it being defec­tive.
He said that they are equipped with the ori­ginal patterns of the parts and so they are able to make their spares the exact size and style. "So there are no complications," he said.
Working at full pro­duction, Reginald claims that he and his partner can produce over four dozen burn­ers per day. "However, we hardly ever work at this capacity be­cause we are contract­ed to do other jobs," he disclosed.
"What we find hap­pening is that when people become aware of the good work we do, they approach us asking to produce for them on a large scale," he explained.
He said that some of his items are made from aluminum which is bought from traders and others are made from empty milk and butter tins.
"We have no major problems with this business though the 'mad' people who sleep at the comer at nights leave the place in a mess which is very hard to clean up the next morning," Reginald declared. –(LJ)
BWIA plans to hire own handling staff
FED-UP with what it says is a deteriorating service at Timehri International Airport, Trinidad and Tobago's BWIA has announc­ed plans to hire its own flight-handling staff and says it has had enough of Guyana Airways.
"We are really getting a bad name. Guyana is an important station for us and we can't continue. We have to get government's approval to hire our own staff and we hope we can do that," a senior spokesman said Monday.
The Caribbean airline first announced plans to move away from Guyana Airways as its local handling agents in the current issue of the Sunjet magazine, now available on its aircraft.
The spokesman said that the airline has been re­ceiving "too many complaints from passengers" about the quality of service in recent months and it is forced to take action now.
"Another option we have now is if the British people who will take over the airport from January 1, are offering handling services, then we might ask them to do that," the spokesman noted.
The Sunjet magazine says the hiring of its own staff is part of its "efforts to streamline service to and from Guyana."
The programme includes also, the setting up of an intransit desk at Piarco Airport from which all BWIA flights to Guyana originate.
Many Guyanese have expressed disgust at treat­ment meted out to them while intransit in the twin-island Republic, but BWIA says the special desk will bring about improvements.
The airline has currently 19 flights to Guyana each week, and this will continue until April.
Asked for a comment yesterday Lennox Canterbury GAC's Public Relations Officer said no official com­plaint has been made to the airline, and BWIA, normally has a Duty Officer in charge of operations.
"Any decision to be made about a flight is done by that officer. We only render clerical and other services to BWIA," Cantebury said.  (BW)
Gouveia voted top player
NATIONAL hockey captain Andy Gouveia was voted ''Player of the Year" last Thursday evening by the Guyana Men's Hockey Board of Control.
Gouveia who led Guyana to a Bronze medal at the South American Hockey Championships copped the top spot from five other players, David and Allan Fer­nandes, the Blades brothers George and Shurland and Ian Nicholson.
The national captain was unanimously selected for the role he played in the development of the game including organising and administration.
Gouveia recently formed the Guyana Motor Racing and Sports Club (GMR & SC) hockey team and will be the Board's nominee for the National Sportsman of the Year award.
Gouveia's runner-up for the Board's top prize went to David Fernandes of Georgetown Cricket Club who was among the leading goal scorers at the Pan American Junior hockey tournament in Trinidad and Tobago and in domestic competitions.
Chris Fernandes, President of the Board and Na­tional coach was selected unopposed at the meet­ing to be the Board's nominee for the National Sports Personality award. Fernandes coached Guyana's Under-21 team winch finished sixth in the Pan American tourna­ment and the bronze medallist at the South Am­erican championships.
The National Sports Development Council will meet shortly to select Sportsman and Sportswo­man, Sports Association and Sports personality for this year.
Increase in allowances for cops
MEMBERS of the Guyana Police Force, especially those ranging in ranks from constable to sergeant, had something to cheer tout, when President Desmond Hoyte, made certain announcements at the 36th dual Police Association conference on Monday, at Eve Leary.
After disclosing that his government has accepted most of the recommendations in the Crane Review Committee on the Force, Mr. Hoyte announced increases in allowances for clothing and meals to ranks.
The clothing allowance will move from $40 to $80 and from $40 to $100. The meal allowance has been increased from $20 to $30.
The President, who is also responsible for the Home Affairs Ministry also announced that in the new year a new rank of Station Sergeants will be created.
Mr. Hoyte told members of the association ranging from constables to inspectors, that soon they will be enjoying the same leave facilities as those in the wider public service.
On the question of remuneration the President while agreeing that improvements in the emoluments of members of the Force are overdue, said he has been advised by the Finance Minister, at it would be a tidier arrangement to deal with whole package as it relates to emoluments for all government employees.
Responding to a suggestion by the President of the Association, Inspector A. King, that police­men be given monetary rewards when they suc­cessfully prosecute drug traffickers and people engaged in dealing with banned items, Mr. Hoyte said he had an open mind on this topic.
But he pointed out, "integrity cannot be se­cured by money, it is a personal characteristic depending on the values a person embraces."
Around the Web