We eat every day, but for some of us, preparing and tasting the same food every week, month and year can get boring. No matter how much we may love a particular dish, or cuisine there are times when we yearn for something different; as the saying goes, variety is the spice of life.
At Christmas time, there is always a return to the traditional. This is because, usually, Christmas dishes are not the ones we would have cooked year round and therefore prepping for, making and eating them can feel fresh and new. But this Christmas, we have tossed all of that out the window and asked four young cooks, at various stages in their careers, to each prepare one of their favourite dishes. Their dishes were certainly not traditional and each one also had an interesting twist.
Hollie De Souza-Kendall's Vegetarian Pie with Callaloo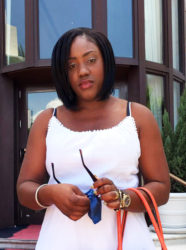 At 30, Hollie De Souza-Kendall has been cooking for a number of years. She started at the age of 18, helping an aunt who had a canteen. While she had the knack for cooking, accounting was her career goal and this remained that way until she was encouraged by her father-in law, who must have tasted meals she prepared on many occasions, to do what she does best. She has not looked back since. The mother of two opened her own canteen at a private school and more recently, launched H & M Catering Services located on East Street. Besides cooking, Hollie is all about family. The name of her business represents both her and her husband, Matthew Kendall, as well as their two children: Hollie-Ann and Matthew Jnr.
Vegetarian Pie with Callaloo
 Ingredients
2 pounds of Irish or sweet potatoes
3 bundles callaloo (Stems removed, washed and chopped)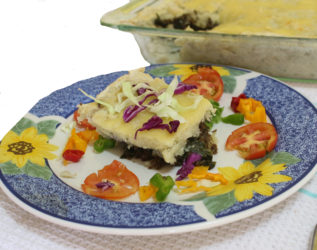 1 pack vegetarian mince
Carrots (diced) (optional)
Eschalots (Green onions)
Celery
Onions
Sweet peppers
Hot peppers (optional)
Egg to baste (Vegetarian cheese can be used instead)
Salt to taste
Barbecue sauce or ketchup
Oil
Directions
Preheat oven to 350 degrees F.
Peel, wash and boil potatoes in salted water. Crush potatoes and set aside.
In a pan, sauté chopped green onions, celery and onions. Add carrots (if using) chopped sweet peppers and hot peppers (if using), then vegetarian mince, and a dash of barbecue sauce or ketchup and stir.
Add callaloo and allow to wilt. Add salt to taste, if needed, and remove from heat.
In a Pyrex dish or other similar bakeware, place a layer of the crushed potatoes. Spread the sautéed callaloo mixture evenly over the potato layer and top with the remaining crushed potatoes.
Whisk egg and baste the top or sprinkle with grated vegetarian cheese.
Bake until cheese melts or there is the desired brownness on top.
 Sarafina Edghill's Stuffed Bell Peppers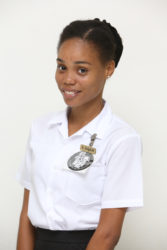 Twenty-year-old Sarafina Edghill is fondly called 'Chef Edghill' or the 'Cup Cake Queen.' Sarafina, who fell in love with cooking during her 'Food and Nutrition' days in secondary school, says cupcakes are her specialty.
While she has her own catering business and can be quite busy she knows that learning the theory of cooking is also important. Having gone through several years at the Carnegie School of Home Economics, she is now in the final stages of reading for a Diploma in Catering and Hospitality. On completion she hopes to further her studies in the region or further afield.
Stuffed Bell Peppers
Ingredients
5 large bell peppers (different colours)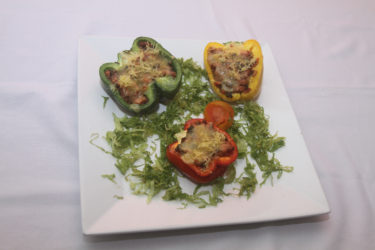 1 1b boneless chicken breast (diced)
½ cup cooked brown rice
1 medium onion red or white (finely chopped)
1 medium garlic clove (finely chopped)
1-2 fresh hot peppers (minced and seeds discarded) or Cayenne powder
2 tablespoons fresh coriander
½ teaspoon cumin
1 teaspoon turmeric
Salt to taste
¼ teaspoon ground black pepper
2 tablespoons red wine
Chili powder
Grated cheddar cheese
Directions
Preheat the oven to 375 degrees F.
Halve the bell peppers and remove the seeds and membrane. Chop two halves of bell peppers (without stems). Set aside.
In a large skillet, sauté onion, garlic and hot pepper. Add boneless chicken and cook through.
Add chopped bell peppers, cumin, turmeric, black pepper, coriander and salt to taste. When meat is cooked and bell peppers are tender, remove and mix with rice in a large bowl.
Fill the bell pepper halves with the mixture and place face up in a lightly greased baking dish.
In a separate bowl, mix together the wine and chili powder. Pour the wine sauce mixture evenly over the stuffed peppers.
Cover the dish with foil and bake for 35 minutes. Top with grated cheddar.
 Shelina Ramsden's Teriyaki Prawns Pineapple Boat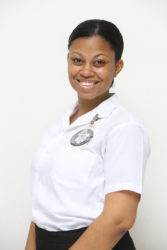 At 27, Shelina Ramsden is reading for a Diploma in Catering and Hospitality at the Carnegie School of Home Economics. She said cooking is what her mother taught her before she died. She developed a passion for it since she was 12 years old. Her dream is to start her own business, but she said will be migrating to the US in the near future and she knows she will have to attend culinary school there, before making her dream a reality.
Teriyaki Prawns Pineapple Boat
Ingredients
1 pineapple
Ingredients for rice
1 ½ cup water
½ teaspoon salt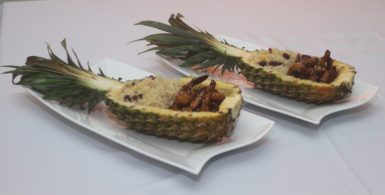 ½ teaspoon chili flakes
1 teaspoon butter
1 teaspoon sugar
1 cup brown rice (rinsed)
Ingredients for prawns
4 cloves garlic (minced)
4 teaspoon teriyaki sauce
½ teaspoon ground ginger
1 1b prawns peeled and deveined (tails may be left on)
2 teaspoon vegetable oil
2 tablespoon sesame seeds
½ cup sweet peppers (diced) (optional)
Directions for rice
Cut pineapple in half lengthwise. Scrape out and reserve the middle of each half, leaving ½ to ¾ inch of flesh along the edges.
Finely chop the reserved pineapple. Combine the chopped pineapple with any juices released and place approximately 1 cup of it in a small saucepan.
Add the water, salt, chili flakes, butter and sugar to the saucepan, and bring to a boil over medium high-heat.
Add rinsed brown rice. Bring to a simmer, then reduce heat to low and cook for 15 minutes or until rice is fully cooked. Once done, fluff with a fork.
Directions for prawns
While the rice is cooking, combine the garlic, teriyaki sauce and ginger in a small bowl. Add the sauce to the prawns and let sit.
Heat the vegetable oil in a large sauté pan over medium-high heat.
Using a slotted spoon, drain the prawns from the teriyaki sauce reserving the sauce. Add the prawns to the hot pan and sear on each side for about one minute.
Add the reserved sauce to the pan and cook for 4 or 5 minutes or until the sauce has reduced and thickened. The sauce should evenly coat the prawns. Sprinkle with sesame seeds, and diced sweet peppers.
To serve, spoon pineapple rice into one half of each hollowed-out pineapple boat. Fill the remaining halves with the teriyaki prawns.
 Jared Sutherland's Fish in Tomato Sauce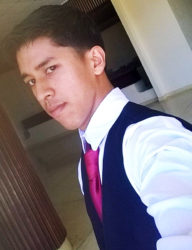 Jared Sutherland is just 18 and he has been cooking since age 15. He is also at Carnegie. He recalled that his introduction to cooking began when he followed the directions given to prepare a dish on a television cooking show and was proud of how it turned out, prepared by his own hands. He has not looked back since.
Fish in Tomato Sauce
Ingredients
1 lb Trout (in fillets)
Salt to taste
2 teaspoons ground black pepper
2 teaspoons garlic (minced)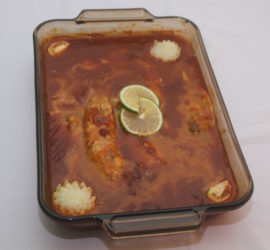 1 tablespoon lime juice
3 cups tomato sauce
Lime slices
Tomato slices
For sauce
3 lbs tomatoes
4 tablespoons olive oil
1 tablespoon tomato paste
¾ cup onion (finely chopped)
1 garlic clove (halved)
10 leaves fresh basil (minced)
1 Bay leaf
Salt
Pepper
Directions
Preheat oven to 375 degrees F
Clean fish and season with salt, black pepper, minced garlic and lime juice.
Place fish fillets in a Pyrex dish and set aside.
Prepare tomato sauce:
Dice tomatoes.
Heat the olive oil in a low wide saucepan over medium heat and cook onion until soft and translucent.
Add the garlic and cook a minute or two just until fragrant.
Add the tomatoes, tomato paste, salt, pepper, basil and bay leaf, and simmer, stirring occasionally, for about 15 minutes or until the sauce has thickened.
Remove from heat and pass through a sieve to capture tomato seeds and skins, bay leaf and garlic halves, which you will discard. Yield should be 3 cups. The longer it cooks the less it will yield.
Pour the sauce over fish and bake for 15 to 20 minutes. Garnish with fresh lime and tomato slices.
Around the Web