If elected to the Georgetown Mayor and City Council (M&CC), Team Benschop is promising city vendors that under its tenure at there will be "no more big stick approach."
According to Campaign Manager Ronson Grey, under the leadership of Team Benschop, City Hall will be empowering and educating vendors about their rights and responsibility not engaging in fruitless confrontations or arbitrary removals.
He feels that much of what City Hall is presently trying to communicate to the vendors is lost in translation because of the combative attitude which characterise the relationship between the two bodies.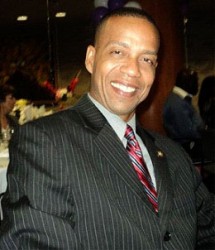 Specifically addressing the recent confrontations between city officials and wholesalers who operate at the Merriman Mall between Orange Walk and Cummings Street, prospective candidate Mark Benschop conveyed his concern to Stabroek News about the plans Town Clerk Royston King has so far revealed for the strip.
"I don't agree with City Hall that a basketball court should be there or that a parking lot should be there," Benschop said. City Hall has, at different times, told the media and vendors that they intend to use the western section of the space for a parking lot and the entire space for a cultural and social space.
"Rehabilitate what you already have. You can't have basketball courts which are falling apart and say you want to build a new one. You can't have the Bourda Market overcrowded and say you want to return the Merriman's Mall to what it was 50 years ago, this is 2015," he added.
According to Grey, Team Benschop intends to encourage vendors to move away from the crowded Bourda market as they create a space along Merriman Mall for an open air market from Orange Walk to Light Street with modern facilities.
In the first six months in council, they hope to move vendors from thoroughfares into a space more comfortable for both them and their customers, while they hope to begin rehabilitation works on the Bourda Market within the first year.
Grey noted that this is of course dependent on consultations with City Engineers but the overarching intention is to accommodate more people in a manner that is cleaner and more comfortable and modern.
One of the prospective candidates for Team Benschop, Robert Millington is hoping to use his 24 years of experience in the United States Navy to revolutionise the way the City Constabulary functions.
Commander Millington also has extensive experience in Information and Communication Technology (ICT), having been involved in the deployment of the Naval Marine Corp Intranet (NMCI) software which controlled the military systems.
For him, his largest asset is understanding how ICT can be used to efficiently manage the city and deliver services.
Latoya Warner, owner of the Gyro Shack who hopes to represent the North Ruimveldt constituency, wants to increase the welfare and other social services offered by the City to its residents.
She is hoping to particularly offer better support to the large number of single parents in her community, particularly so that they can get their children to school.
Team Benschop, which was informed on Saturday that their symbol has been approved by Guyana Elections Commission (Gecom), believe that their energy and skill will create a city of persons efficiently cooperating to create a better standard of living. Their slogan reads: "We Win, You Win!"
Around the Web