Schools, large bands and other steel pan groups are gearing up for the Annual Republic Bank Pan-O-Rama Steel Pan Competition on February 25 and 28 as part of this year's Mashramani events.
In keeping with jubilee celebrations under the theme 'Celebration of Diversity, Unity and Sovereignty,' school bands have been asked to arrange pieces by a Guyanese composer and interpret the songs in their own style.
According to Andrew Tyndall, coordinator of the Music School, this year's competition will see some 14 school bands participating. North Ruimveldt, Queen's College, President's College, West Demerara Secondary, St Rose's High, the Bishops' High and reigning champions Dolphin Secondary, among other schools, are expected to compete.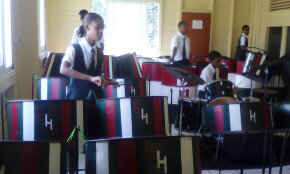 Stabroek News visited the Bishops' High and learned its steel bans has been fusing a classical national song with a calypso rhythm. According the instructor Cary Gillis, he and his students have been rehearsing since December to develop the composition and most importantly to get the group up to "competition standard." He said he had inherited a new but yet talented player body. The students have sacrificed their lunch and morning periods to perfect the playing of the pan. The national song that was chosen was RCG Potter's "A Song of Hope." Gillis explained it to be a bit technical, but said he has confidence that the group will make it a beautiful piece. The Bishops' High School Steel Band placed third in the Pan-O-Rama competition last year.
As slated on the Mashramani Calendar of Events, Pan-O-Rama is scheduled to be held at the Cliff Anderson Sports Hall on February 25 and at the Theatre Guild on February 28. The school bands and the large band categories, which will include the Guyana Police Force and Parkside Steel Orchestra are to be held at the Sports Hall and the smaller categories, which are also known as the novelty categories, which will feature the pan jazz, will follow after at the Theatre Guild.
Over $4 million have been set aside for the prizes in the competition. Schools will receive a gift voucher, which will aid in the expansion of the school's music programme, along with a trophy.
Pan-O-Rama is hosted by Republic Bank in collaboration with the Ministry of Education Department of Youth Sport and Culture.
Around the Web