MUMBAI, (Reuters) – Chris Gayle smashed the first hundred of the sixth World Twenty20 to underline his reputation as cricket's most destructive batsman and powered West Indies to a six-wicket win over England in their Super 10 match today.
The tall left-handed opener, who often polarises opinions with his antics off the field, made mockery of a seemingly steep 183-run target in the Group One match, carrying West Indies to victory with 11 balls to spare on a hot and humid evening at the Wankhede Stadium.
Gayle's century was his second in the format and he remained unbeaten on 100 off 48 balls with his innings studded with 11 sixes and five fours.
Marlon Samuels (37) took the early lead of smashing the England bowling while Gayle took his time to settle down and the pair added 55 for the second wicket to lay down the foundation for a West Indies victory.
It was the sparse crowd at the stadium overlooking the Arabian Sea who were at risk once Gayle decided to open his arms and swat away everything that was in his zone over the boundary.
Both England spinners Adil Rashid and Moeen Ali were at the receiving end of Gayle's blitzkreig with the latter suffering the ignominy of being hit for three consecutive sixes in an over in which he gave away 22 runs.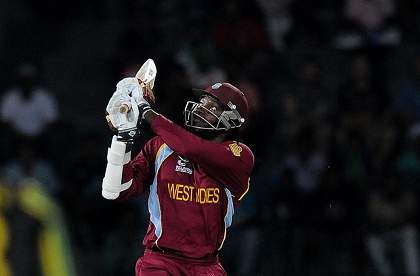 Denesh Ramdin and Dwayne Bravo threw away their wickets in a brief period of worry for West Indies but England captain Eoin Morgan and his team mates could do little to stop the 36-year-old Gayle take apart their bowling.
Earlier, a measured 48 from Joe Root helped England to 182-6 after West Indies won the toss and opted to bowl on a green-tinged wicket.
Root, who hit three fours and two sixes in his 36-ball knock, and Alex Hales (28) added 55 for the second wicket for England.
Opener Jason Ray (15) and Hales broke the shackles in the third over as they added 18 runs against fast bowler Jerome Taylor after West Indies, the 2012 champions, restricted them to five runs in the first two overs.
Jos Buttler (30) and Morgan (27 not out) provided the late flourish with the 2010 champions taking another 18 runs in their last over off paceman Bravo.
All-rounder Andre Russell, who dismissed both Roy and Root, and Bravo picked up two wickets each for West Indies.
Scoreboard
ENGLAND
J Roy c Badree b Russell 15
A Hales b Benn 28
J Root c Taylor b Russell 48
+J Buttler c Brathwaite b Bravo 30
*E Morgan not out 27
B Stokes lbw b Bravo 15
M Ali run out 7
Extras  (b1, lb1, w10) 12
TOTAL (6 wkts, 20 overs) 182
Did not bat: C Jordan, A Rashid, D Willey, R Topley
Fall of wickets: 1-37 (Roy, 4.3 overs), 2-92 (Hales, 11.1), 3-114 (Root, 14.2), 4-152 (Buttler, 17.5), 5-175 (Stokes, 19.4), 6-182 (Ali, 20)
Bowling: Taylor 3-0-30-0 (w3), Badree 4-0-34-0 (w1), Russell 4-0-36-2 (w1), Bravo 4-0-41-2 (w1), Benn 3-0-23-1, Brathwaite 2-0-16-0.
WEST INDIES
J Charles c Ali b Willey 0
C Gayle not out 100
M Samuels c Willey b Rashid   37
+D Ramdin c Rashid b Ali 12
DJ Bravo c Hales b Topley 2
A Russell not out 16
Extras (lb4, w10, nb2) 16
TOTAL (4 wkts, 18.1 overs) 183
Did not bat: C Brathwaite, *D Sammy, S Badree, S Benn, J Taylor.
Fall of wickets: 1-2 (Charles, 0.2 overs), 2-57 (Samuels, 6.4), 3-103 (Ramdin, 11.1), 4-113 (Bravo, 12.2)
Bowling: Willey 3-0-33-1 (w2), Topley 2.1-0-22-1 (w2), Jordan 4-0-24-0 (w4), Stokes 3-0-42-0 (w2, nb2), Rashid 2-0-20-1, Moeen Ali 4-0-38-1.
Result: West Indies won by six wickets.
Points: West Indies 2, England 0.
Man-of-the-Match: Chris Gayle.
Toss: West Indies.
Umpires: C Gaffaney, R Tucker; TV – P Reiffel.
Around the Web