The 21-year-old labourer who was hospitalized in a critical condition after he was hit in the head at Canje, Berbice, succumbed on Friday and his father is seeking justice, even as two suspects were rearrested.
Omesh Seelall, called 'Rovin' of Lot 18 Betsy Ground, East Canje, Berbice died at the George-town Public Hospital as a result of injuries he sustained in a late night attack two Saturdays ago.
Omesh's father Jagpaul Seelall told Stabroek News that the doctor had informed him that there was a small chance that his son would survive the injuries he sustained to his brain.
According to Seelall the machine was keeping his son alive. The man said, "His head was bashed in and his eyes bulged out." Omesh underwent a surgery on Sunday last to remove blood clots that were in his brain, his father said, and the surgery was successful, but it was not enough to save his son's life.
According to Jagpaul, eyewitnesses told him that after his son was served the blow to his head, he was pounced upon by his attackers. "Me hear the one knock him with the wood, and then he brother start kick he up and the other guy that was with them kick he up too, and then them spit on he," Jagpaul said. "Me hear them ask he, [if] he na get up, if he dead already," he added.
The alleged perpetrators fled the scene and went into hiding.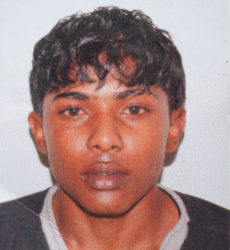 Three men were later arrested; one was released after being questioned and the other two were subsequently released on bail. They were rearrested following Omesh's death. Meanwhile, a search for the main suspect, one of the brothers who allegedly delivered the blow, continues.
According to information gathered there was a wedding in the area on the night in question. Omesh and the alleged perpetrators were imbibing in a shop nearby. Omesh subsequently left the shop and stood on the road and his attacker ran and took a piece of wood (2 by 4 scantling) from a dray cart that was close by and struck Omesh to his head. The police have since retrieved the piece of wood used to carry out the attack.
After he fell unconscious to the road, the others stomped him repeatedly causing him to bleed through his mouth, nose and ears before they escaped. Omesh was rushed to the New Amsterdam Public Hospital where he received emergency treatment and was later transferred to the George-town Public Hospital.
According to Seelall, his son sustained a fractured skull and his face was swollen. He also said that Omesh had been scheduled to leave the country and join his mother in a month's time.
Seelall voiced his frustration. He said that although he is aware that the ranks are carrying out searches for the main suspect, he believes they should seize his passport from relatives, before the alleged perpetrator in an attempt to escape the law, leaves the country.
Seelall added that Omesh was a quiet and easy going boy. "I never get a problem with that boy," the distraught father said.
Around the Web