The suspected triggerman in the killing of Parika businessman Seeram Singh has been positively identified as the shooter, according to Crime Chief Wendell Blanhum.
When contacted for an update, Blanhum told Stabroek News that the man, known as "Deportee," was positively identified during an identification parade conducted yesterday as the shooter.
Additionally, a large amount of gunpowder residue was found on a quantity of clothing that was discovered in the man's house. He was arrested on Sunday evening at his Parika, East Bank Essequibo (EBE) house, where a search was conducted and a quantity of wet clothing was found. The clothing matched the description of what eyewitnesses said the shooter was wearing on the night Singh was killed, Blanhum had said.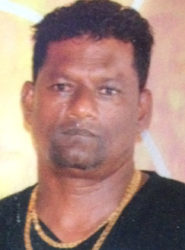 A woman was arrested on Saturday evening shortly after the murder but it is unclear whether she remains in police custody.
Singh, 52, called "Brother See," a fuel dealer, was shot and stabbed about his body around 9.45pm on Saturday. The shooter escaped with four gold chains, but left behind eight gold rings he was wearing, his wallet that contained cash and his car keys.
He sustained a stab wound to his abdomen and gunshot injuries to his right ear and lower back and was taken to the Leonora Cottage Hospital, where he was pronounced dead on arrival.
The police, in a press statement, had said that Singh was walking along the roadway at Parika Outfall when a man approached from behind and shot him in his back. As Singh fell, the man shot him again, grabbed his gold chains and escaped.
Around the Web