Rose Hall resident Desmond Gordon, who allegedly chopped his common-law wife to death on Monday evening, has been charged with her murder.
Gordon, 50, a cane harvester at the Albion Sugar Estate, was charged with murdering Bhagmattie Etwaroo, 50, also of Rose Hall.
He was not required to enter a plea when he appeared before Magistrate Marisa Mittleholzer at the Albion Magistrate's Court.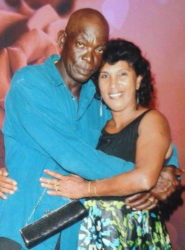 Gordon, who was unrepresented, stood in the prisoners' dock expressionless and answered the magistrate's questions with one word answers.
Magistrate Mittleholzer advised Gordon to seek legal assistance before she remanded him to prison.
Gordon was arrested covered in blood shortly after the fatal attack, which occurred around 5.45pm on Monday at Lot 196 Mangrove Street, Rose Hall, Corentyne.
Gordon and Etwaroo had been seen drinking alcohol before a heated argument ensued.
Etwaroo subsequently jumped from the stairs of the upper flat to the bottom flat to escape the blows but Gordon allegedly armed himself with two cutlasses and chopped her about her body, including her neck. The woman then ran into a storeroom, where she collapsed and died.
The couple had been living together for eight years, during which time family members said Etwaroo had been advised against staying with Gordon due to incidents of domestic violence.
Gordon is to return to court on June 3rd.
Around the Web