Two men who were arrested after their victim ran them over with her car after they robbed her last year, were yesterday sentenced to four and three years in jail respectively after being found guilty of the offence.
William Evans, 25, and Tambico McKenzie, 30, were found guilty of a charge of robbery under arms following a trial at the Georgetown Magistrates' Court before Magistrate Judy Latchman.
According to the facts on the case, on February 9, 2015, at Cane View Avenue, South Ruimveldt, Evans and McKenzie attacked Marrissa Hohenkirk with a knife and robbed her of an iPhone, a gold chain, a gold and diamond ring and three gold bands, all totaling $370,000 in value.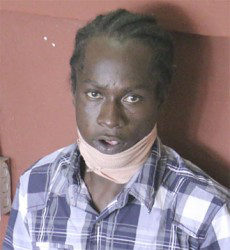 Police had said that after Hohenkirk was robbed, she pursued the men in her car and ran into them, which led to their arrest.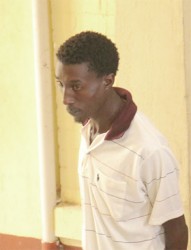 In handing down her decision yesterday, Magistrate Latchman said she believed the testimony given by the virtual complainant who identified the two men in the dock as the ones who robbed her. "I find Hohenkirk to be a credible and candid witness as she identified her attacker with plaits in his hair and he did appear with plaits in his hair in court," Latchman said.
In her testimony, Hohenkirk had said that McKenzie was the first to accost her, taking away her jewellery while Evans came through her front passenger side window and stole her cell phone and other items.
The magistrate said she also believed the testimony of Assistant Superintendent Mitchell Caesar who was the one who found McKenzie in an alleyway not too far from the scene of the incident. Caesar had testified that a few of the stolen items were found on the man.
According to Magistrate Latchman, the men acted in concert and feloniously took Hohenkirk's articles away with the use of a knife.
The magistrate said she did not believe the defendants who claimed that they were innocent. She said the witnesses produced by the defence did not help as they failed to serve as credible witnesses.
In sentencing, the magistrate said, she has taken into account the prevalence of the offence and the wish to deter others from wanting to commit similar acts.
She sentenced McKenzie, who had the weapon and who had also faced a previous charge of assault, to four years and eleven months in prison. Evans, who had already spent a year since the trial, in prison, was jailed for three years.
Attorney Dexter Todd represented both men, and before sentencing, had asked the magistrate to be lenient in her decision. Todd told the court that each individual could still be an asset to society when they are released.
Around the Web