A Gafoor's manager was found dead at his Herstelling, East Bank Demerara home on Thursday night.
However, while the son of Terry Lackhan, 55, of Lot 39 Herstelling, East Bank Deme-rara, believes that he was killed, police are treating his death as a suicide since he was found with a rope around his neck. Investiga-tors are now counting on a post-mortem examination for some certainty on the man's cause of death.
The gruesome discovery of Lakhan's body was made on Thursday night between 9 pm and 10 pm by a neighbour, who also reported seeing an individual running out of their yard.
When Stabroek News visited his home yesterday, police were seen taking statements from his neighbours, who reside in the bottom flat of the two-storey house.
This newspaper learned that that the neighbour who made the discovery heard a commotion in the upper flat but dismissed it since it was customary whenever Lackhan drank alcohol.  However, she became suspicious that something was amiss when she later saw an individual running out of the yard. At this point, she ventured upstairs and checked on Lackhan, since calls made to him went unanswered. It was then that she found his body inside a room with a rope around his neck.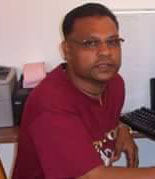 Meanwhile, the man's son, Rayad, told Stabroek News that he was told that when the neighbour ventured upstairs, the house was in darkness and the scent of gas filled the air. After the discovery by the neighbour, the police were summoned to the scene.
Rayad noted that he was in Berbice when he received a call informing him of his father's death. He said that when he examined the home after the police left the scene, he found that the entire house was ransacked, giving him the impression that a robbery had taken place. However, he could not say at the time if any items were missing from the house.
However, a neighbour told this newspaper that it was first reported that Lackhan committed suicide and he was found in the front bedroom with a rope around his neck and pills in his hands. The neighbour, who asked not to be identified, stated that pictures were found neatly placed before of him. The neighbour explained that based on the condition of the house, the man's death did appear to be a suicide.
Rayad said he last spoke to his father on Thursday morning and was informed that he was heading to work. However, Rayad said his father reportedly went drinking and he was lied to because he would disapprove of his father's actions. Neighbours said that Lackhan was last seen drinking at a restaurant close to home.
Lackhan was described as a peaceful individual, who would not get into quarrels with anyone and would often greet neighbours when seen on the road.
He was employed as the Branch Manager of the Gafoor's Industrial Complex at Beterverwagting.
Around the Web