After more than half a century of practice, Dr Gladstone Mitchell has hung up his stethoscope, but he wants local politicians to stop interfering in the policy decisions, made by medical professionals that are aimed at developing the nation's healthcare system.
"The politicians get too involved with the policy making, so the policy makers are not free to exert those policies and this has to change," Mitchell told Stabroek News in an interview.
The certified obstetrician and gynaecologist (OB/GYN) said he made the tough decision to retire after, "crossing over to the other side." Dr Mitchell suffered a near-death experience in neighbouring Trinidad and Tobago, three weeks ago. He was there for the graduation of his granddaughter Debra who is Tobago's top SEA student.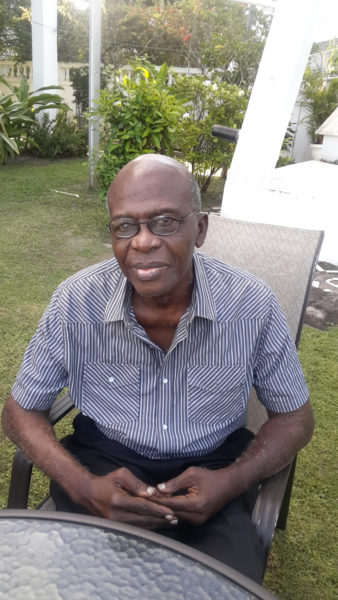 The 79-year-old Industry, East Coast Demerara resident, sat down with Stabroek News last week to reflect on his 50 plus years of service in the medical profession and what he thinks can be done to raise the standards of healthcare for Guyana's citizenry.
Although born in Linden, Region 10, the Queen's College scholar who grew up in Industry, always knew he wanted to be a physician.
As such, after completing his high school years here, he left to study medicine at the University of the West Indies in Jamaica. He later underwent specialized post-graduate training in Barbados at the Yale University in the United States.
"I worked in Guyana for a year then went the Queen Elizabeth Hospital in Barbados. So my career has taken me from the land of wood and water in Jamaica, through the hills and valleys of Barbados; into the panelled halls of Yale to the sombre cold walls of Hammersmith in England then back to Guyana," Mitchell related as he closed his eyes while wrapping his arms around himself rubbing his arms.
"Hammersmith, with Professor McClure Brown, Brrrrrr, Brrrrr. I can still feel the cold of Hammersmith now as I remember," he added.
Community care
But although working in several countries and in all three counties of Guyana, the doctor's best career years were spent in the Cinderella County of Essequibo, where he was stationed as the Medical Superintendent of the Suddie Hospital. "Essequibo, oh Essequibo, that was the nicest most rewarding time of my medical life… everyone was family," Mitchell fondly reflected.
He believes Guyana needs to return to the time when residents in the communities cared about and looked out for each other. He thinks that these traits and the genuine love and concern for others, saw a lower suicide rate, and stress and stress-related illnesses not as endemic as they are today.
Mitchell, who worked in many rural communities throughout Guyana also said that the quality of life of persons when he was younger was better because it was not focused on quantity and foods were whole and natural.
Citing an example of community, he recalled a case that remains indelible in his mind. "… It was at Essequibo with a patient Ishak Basir who got shot. He was a member of the PPP and he had gotten shot… I remember it was a Saturday afternoon about 12.20 or one o'clock. I don't know if you know the Essequibo Coast but the streets from the police station all the way to the backdam were crowded with people. Everybody came out and was concerned.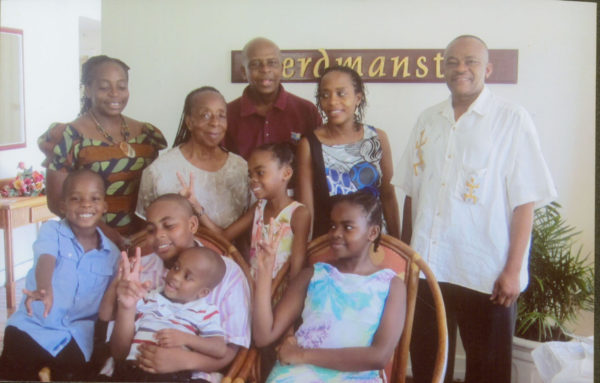 "The minister called, [late president Cheddi] Jagan called too and LFS [late president Linden Forbes Sampson Burnham] called the next morning and by that call I said 'This is heavy politics so let's send him to town with the helicopter'. He was okay, by then he had gotten through the worse… If anything had happened to him, it would have been something else because it was heavy politics," he added.
He said that the patient/doctor relationship with Bashir blossomed into a personal friendship and this got him "into trouble" on both sides of the political divide.
Political influence
The father of one son and two daughters, explaining political influence on polices in the health sector, spoke of how he ached to see his daughter, who was a serving doctor here, retire from serving on the Medical Council of Guyana after just four years, because of it.
Her fights were exhausting and draining, not with patients or peers but with the then Ministry of Health, which, according to him is supposed to be the partner of local medical fraternity, in the fight to improve healthcare here.
Mitchell, a four-decade member of the Medical Council of Guyana, pointed to the current issue of foreign doctors who cannot speak English being allowed to practice here.
He that while it sounded simple, the authorities have said that foreign doctors did not have to know English. "If you can't speak English and understand English then how on earth will you understand what the patient is telling you? How can you explain anything to the patient? " he questioned.
"There are excuses that the doctors are helping us and say some people should be exempted but no one should be exempted. Mind you, their agreements do not have speaking English as a requirement, but in the olden days you had to know to speak English… Now there is a basic entrance exam for them but that is not enough… but it is really the politics that is causing all of this."
His daughter, as a member of the council, would have argued this point under the previous government but with myriad complaints from patients and nothing being done by the Ministry of Health, she decided to resign from the council because of the frustration and stress.
And while he understands that one of the arguments is that to have English-speaking doctors serving in Guyana would cost more, he does not believe cost should trump the quality of medical care.
Turning to the quality of healthcare, Dr Mitchell said that more needs to be done for graduating doctors. He said that as a young doctor, in his 20s, practicing in Guyana the communities were very accepting and never questioned his expertise, as happens a lot currently.
"The real problem is the quality of service that you are giving. Word gets around very quickly: 'This lil boy aint know what he doing', but if you look and perform competent enough, not a problem. What is happening is that there is not enough supervision, so too many of these young fellows are left on their own. They are sent to these clinics without any supervision. Just barely finished their internship and they are sent off and have to make their own decisions.
"What happens too, is that after they would have finished their five years they leave. So there is no one left to train the others. But it is not for the money, key is job satisfaction and policy decisions over the politics."
GPHC lauded
However, Mitchell lauded the technological advances made in medicine here and the many young doctors who endure the political and other interferences, to stay and serve.
Making reference to the stellar treatment he recently received at the Georgetown Public Hospital Corporation (GPHC) after being transferred from a private Tobago medical facility, he said also that enough credit is not given to those currently serving.
"One of the first things that happened to me was when I came into the A&E at GPHC, they put me on the bed to lie down and they brought an instrument and x-ray right there. I said 'My gosh! How far we have come?' They have a lot of equipment right there, so it's just a matter of management… I had good treatment there, excellent. And I don't think the statistics show the true nature of what is happening there," he asserted.
He added, "They have really improved over the 50 years and when I told them some of the stories I had to go through there they were shocked. In fact, I apologized to the staff. A lot of the problems we are having now is because a lot of the people like me did not stand up for what we believed in. We closed our eyes from this and we backed down from that, now they have the troubles to deal with some of the same things. My daughter came and started here and after a few years she said she can't make it here and left and went to Tobago because the quality of medicine practiced is very poor. We are losing too many doctors and it is not just money it's job satisfaction."
The walls of Dr Mitchell's home are filled with the many trophies he won for his prowess on the track, at badminton and at tennis throughout all of his school years.
He was also bestowed with the Golden Arrowhead of Achievement but to him that pales in comparison with the award given to him by the medical fraternity for his phenomenal service throughout his career. "To me that award, given by my peers, means more to me than that national award. To have your peers say 'Yes he has done well and we look up to him' has done more than any other award I can have," he emphasized.
In contrast to the athletic and outdoor life he lived during his youth, the avid "Young and the Restless" soap opera fan plans to spend his retirement watching reruns and current episodes  of the show, enjoying time spent with his five grandchildren and using his many gadgets to keep in touch with the outside world.
He said, "I'll come out in the garden if they have a TV with my 'Young and Restless' out here but I have a hotel room in my bedroom and don't see the need to come out. You know why I took my breaks at 12:30 to 1 pm when I was working? It was because of the programme schedule so I would fit my schedule to the show. They used to tell my patients pray not to need doctor during Y&R times…Why I like 'Young and the Restless' so much? It has everything in it. It is about life.
"But everyone can find me. I am on Facebook and WhatsApp and I love my gadgets and the grandchildren. They keep me up to date and happy."
Around the Web