The two men accused of killing 13-year-old Daveanand Sanichar, following a row at a wedding house at Triumph, East Coast Demerara on Sunday, were yesterday charged with his murder.
The court of Sparendaam Magistrate Zamilla Ally-Seepaul heard that Raymond Wong, 27, of Lot 110 Agricul-ture Road, Mon Repos, and Kevin Sahoye, 20, of Lot 104 Agriculture Road, Mon Repos, jointly murdered Sanichar on Sunday, August 14th, at Plantation Walk, Triumph.
They were not required to plead to the charge.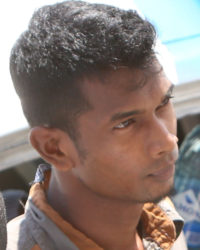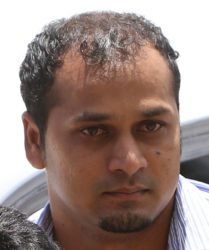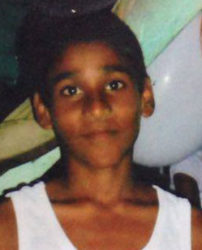 Police Prosecutor David Goodridge, who said that the investigations into the matter are completed, told the court that Sahoye was dancing behind Sanichar's aunt, which led to an argument. As a result, Sanichar went home for a cutlass and returned and the argument continued. Sahoye allegedly dealt the child a blow to the head with a piece of wood, while Wong allegedly used the cutlass to inflict chops about his body. The boy was subsequently rushed to the Georgetown Public Hospital, where he was pronounced dead.
Wong's lawyer, Satesh Kissoon, said his client was arrested on Monday by the police and was told that he was going to be charged with murder. Kissoon complained that the police did not do a thorough investigation into the teen's death, while noting that a third person may have been involved. Three persons had initially been held for questioning but based on the evidence gathered it was recommended that two of the three be charged.
Meanwhile, Sahoye's attorney, Everton Singh-Lammy, echoed Kissoon's arguments about there not being a thorough investigations of the teen's death. They both later asked for the disclosure of statements in the matter.
The magistrate subsequently remanded both of the accused to prison. They were ordered to return to court on September 13th for the disclosure of statements.
Police had initially said that Sanichar, who had gone to the wedding with his mother, was dealt a chop to his head by one of the men. "Whilst on the ground, he was given a severe beating with a stick," the police statement on the murder said.
Around the Web