Alvin Reid, known as 'Satan,' who police say is responsible for killing 14-year-old Malika Hamilton, was yesterday charged with her murder, while alleging that the police had beaten him for a confession.
The court of Sparendaam Magistrate Zamilla Ally-Seepaul heard that between August 8 and 9 August, 2016, at Hope, East Coast Demerara, Reid, 29, of Nimrod Street, Ann's Grove, East Coast Demerara, murdered Hamilton. Reid, who told the court he works in the interior, was not required to plead to the charge.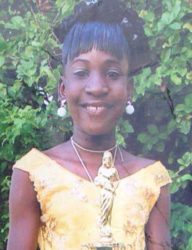 Police prosecutor David Goodridge, who said that investigations into the matter are completed, told the court that Hamilton and Reid, who are known to each other, had gone for a swim in the Hope Canal on August 8, which was the last day the girl was seen alive. She was later found floating in the canal on August 9.
Goodridge said that the post-mortem report later revealed that she died from asphyxia due to drowning. The police conducted their investigations and sought Reid, who was subsequently arrested. The prosecutor added that the file was later sent to the Director of Public Prosecutions' office for advice, hence the present charge being laid against the accused.
After the prosecutor's submissions, Reid told the court that he was severely beaten by drunken police at the Turkeyen and Cove and John police stations in order to get a confession out of him. "They put a black bag over my face and beat me, look all me head," Reid said, while he showed the magistrate the visible marks about his body. According to the accused, he could point out the policemen who inflicted the beatings on him.
Magistrate Ally-Seepaul told the magistrate and the accused that she will be recording the allegations made against the police in her files.
Reid was later remanded to prison and the case was adjourned until September 28, when it is to be called at the Cove and John Magistrate's Court.
Hamilton's body was found around 1.30pm on August 9, a day after she went missing, several miles away from the Hope Canal Bridge, by residents of the community who had ventured into the canal to swim. Hamilton, of Lot 11 Two Sisters Village, East Coast Demerara, had left home following an argument over the telephone with her father and did not return. Reid who managed to elude the police after being identified as a suspect, was eventually found hiding in a barrel in the Ann's Grove cemetery last week.
Around the Web