The Guyana Police Force's 'B' Division last Saturday honoured ranks and civil society partners for their efforts in helping to make the division safer.
A total of 65 ranks, 20 members of the Cops and Faith Community Net-work, 13 businesses, 17 work study students and eight media workers were recognised at an award ceremony that was hosted by the division at the St. Francis Community Developers Hall.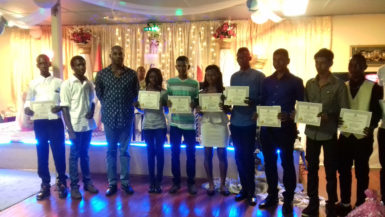 Commander of 'B' Division Ian Amsterdam, during his address at the ceremony, highlighted the need for motivation at the workplace. According to Amsterdam, for this year approximately $14M was given out as incentives to ranks who worked tirelessly. However, he said that was not enough as the force would have required some $20M to complete that task.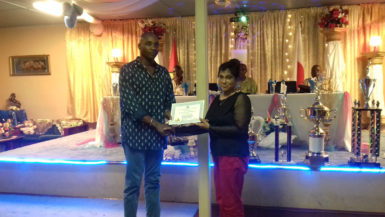 This, Amsterdam said, was unfair since the division's lawmen played a major role in the county's decreasing crime rate and should be recognised and thanked for their hard work. "We don't award people for coming to work. If you find a gun is police work; if you find drugs is police work; the most notorious criminal is police work and that is what you swore to do. So, therefore, we don't have to give you an award," he explained. "But when I look at the picture, if we are to improve performances, then incentives and awards are some of the things that drive, that motivate persons to [perform] at a higher level and therefore that's why we give them, in recognition for what they have done", he said. "That's why we want to encourage them to continue to do more good things, more positive things," he added.
Amsterdam urged ranks to continue to excel despite the negative light that is shone on the police force at times.
Meanwhile, he also charged the media not to glorify criminals and their actions. "You are doing no good when you do that. When you do that, criminals are happy to see when they make the news, they are happy to see people hurt by their actions, they feel they have become marketable," he said.
Businesspersons who have supported the 'B' Division administration financially through the year were awarded for their service and staunch commitment to social activities that aid crime prevention and traffic improvement strategies.
Media workers were awarded for analytical and insightful reporting.
Around the Web