An Essequibo Coast father of four drowned while he was on a fishing trip.
Latchman Persaud, 53, called Lall of Airy Hall Sands, Essequibo Coast, was found floating in a canal on Wednesday afternoon, hours after he left home.
He was found by his brother who was part of a search party.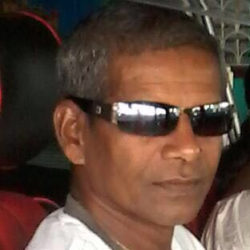 Persaud, a drainage and irrigation worker, left home around 1 pm to go fishing and did not return home at the usual time.
A nephew, Anand Persaud explained to Stabroek News that around 4pm his wife alerted family members that Latchman had not returned home.
A brother along with others began to search the area and found his belongings as well as his catch near a trench in the backdam.
Upon a further search, the brother found Latchman's body in the trench and alerted the police.
He was pulled from the trench and taken to the Suddie Public Hospital where he was pronounced dead on arrival.
A few weeks ago, Latchman's nephew also drowned while he was on an outing with his friends at the Aurora seawall.
A post-mortem examination will be conducted today.
Around the Web