Self-professed drug Lord Barry Dataram and three others, who are accused of trafficking 284 pounds of cocaine, will know on Tuesday whether they have to lead a defence at their trial or will be freed of the charge.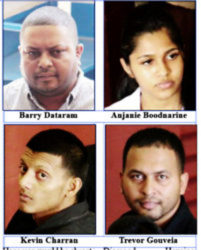 Dataram, his common-law wife Anjanie Boodnarine, Kevin Charran, and Trevor Gouveia are currently on trial for possession of 129.230 kilogrammes of cocaine (equivalent to 284 pounds) that were found on April 16th, 2015 at Dataram's Lot 661 Silver Dam, Fourth Avenue, Diamond Housing Scheme house.
When the trial continued yesterday before city magistrate Judy Latchman, Customs Anti-Narcotics Unit (CANU) prosecutor Konyo Sandiford-Thompson and attorney Glenn Hanoman both made submissions.
It was then stated by the magistrate that at the next hearing, scheduled for September 20th, a decision will be made on whether a prima facie case has been made out against the defendants and which would require them to lead a defence to the charge.
Around the Web