Former Region Six Regional Executive Officer (REO), Dr Veerasammy Ramayya yesterday rejected suggestions that his performance had been substandard and he charged that AFC leaders Khemraj Ramjattan and Moses Nagamootoo have failed the people.
Just days after resigning as REO and as a member of the Alliance for Change (AFC), Ramayya summoned a press conference to respond to hints by Prime Minister Nagamootoo that there had been problems with his performance.
Speaking at the Ministry of the Presidency on Thursday on Ramayya's resignation, Nagamootoo had said the former REO was called in several times by tender board officials to ascertain what he was doing and how he was performing since by virtue of the position he held he was under pressure to deliver.
"I have tried as best as I could and I think I could credit myself with strongly recommending him to be the REO and I supported his appointment and I went to Berbice…to announce his appointment. I was proud of his appointment but equally I have also been critical… Berbice is too important not to have development works proceeding apace and not expediting the contracts that have been given to see that these things are done," the PM said.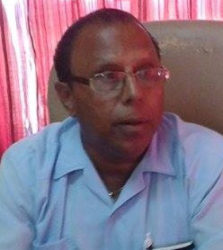 Ramayya yesterday said he deserved the post of REO and queried how the PM could appoint him to the position if he was not competent. Nagamootoo on Thursday had also cited Ramayya's opposition to the Cummingsburg Accord  between the AFC and A Partnership for National Unity and this was seen by some as another reason behind his exit from the REO post and the party. Ramayya, however, differed. He said he was against the AFC coalescing with APNU but only because the AFC had made a promise to its supporters "to never coalesce with any party."
Said Ramayya: "I have nothing against APNU, the president (David Granger) or Mr. (Joseph) Harmon. I respect the president."
Ramayya said his troubles began after he refused to carry out tasks which he deemed wrong. He highlighted that most issues developed after he refused to sign off on the tendering process for certain goods and services in the region.
Ramayya alleged that his former party's men interfered in the work of the Regional Tender Board."
He added, "I indicated to Moses that the wrong people were placed in the tender board." He said that in one instance, pressure was placed on him to pay some $1M to a local electrical firm to rewire the entire New Amsterdam Hospital for problems he was never informed of. He also pointed out that on one occasion, regional health officials decided to pay some $2M to a contractor to clean the hospital's septic tank with buckets instead of using the suction pump, which according to him, would have cost the hospital a lesser amount.
Ramayya went on to state that he believes that Nagamootoo only agreed to the February 14, 2015 coalition knowing that "a position would have been there for him."
Ramayya added, "He (Nagamootoo) couldn't be a prime minister in the PPP nor the APNU, this is the only chance he had." Ramayya opined that support for the government from Berbicians has declined. This, he said, was due to the number of scandals hitting central government as well as it not fulfilling the promises that were made during the campaigning period. He surmised that the party will see a further decline since he is no longer with it. Ramayya argued that he was the one that put in the labour and brought votes to the party. "I want to say to Moses and Khemraj, you have failed the people of Guyana as politicians," he added.
Around the Web