A woman was arrested yesterday after she created a disturbance at the Georgetown Magistrates' Courts complex, where she announced that she would kill a police officer whom she accused of taking money from her and having her imprisoned.
An irate Rushelle Gittens, who was alleged to have been armed with a pair of scissors, was eventually subdued and later escorted away under heavy police guard.
During her outburst, Gittens, who along with her common-law husband, Hubert Nathaniel Bartholomew, is currently on trial for narcotics possession, alleged that the officer took over Cdn $8,000 from her and placed her in a Berbice jail for two weeks for narcotic charges.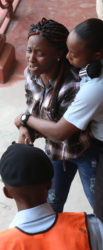 The police allege that on August 22, at Howes Street, Charlestown, the couple was found with 1.550 kilogrammes of cannabis for trafficking.
Between sobs and fits of anger, she cried out that she lost her job as a pharmacy technician.
The woman expressed her frustration with the police complainants department, while saying that her reports of mistreatment were later disavowed. She could also be heard shouting that she wants her mother, who is currently in Canada.
When several officers attempted to arrest Gittens, a struggle ensued and she attempted to bite an officer who tried to handcuff her.
After some time, Gittens was subdued and calm was restored to the premises.
Around the Web