The Department of Labour has launched an investigation into the death of a construction worker, who was electrocuted and fell off of a three storey building at Diamond, East Bank Demerara.
Matthew Adams, 31, of Lot 75 Block 'E' South Sophia, was working on top of a building at Diamond, when he came into contact with an electrical wire and fell to his death last Saturday.
He was rushed to the Diamond Diagnostic Centre, where he was pronounced dead on arrival. His family later learned that he was not wearing any safety gear, which resulted in him being electrocuted.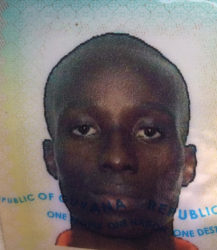 A source from the Ministry of Social Protection confirmed to Stabroek News this week
that an investigation has since been launched into the man's death.
Stabroek News was told that the man had picked up a piece of the metal scaffolding and when he turned, a piece of it came into contact with electrical wires from a utility pole.
A post mortem examination subsequently found that Adams died as a result of blunt trauma to the head, which he suffered in the fall.
The man's relatives have voiced concerns about why he was working at such a height without gloves and a helmet and why live wires were allowed so near to the construction site.
Concerns were also raised about why supervisors had not checked on the site to ensure that the workers were following the necessary safety precautions or were provided with the necessary tools.
Construction workers are seen daily around the country climbing heights without harnesses and working without safety helmets.
While there have been several other cases this year of construction workers being shocked on top of roofs and falling to their death. Questions have been raised about what the Department of Labour in the Ministry of Social Protection has been doing about these fatal incidents.
Around the Web