Police are searching for five bandits who kicked down the door of a Herstelling family's home and robbed them of over $2 million in cash and jewellery during the wee hours of yesterday morning.
The attack was carried out around 2 am by five men, all armed, who arrived in two cars and jumped into the yard of the Harrinauth family at Lot 463 Fourth Cross Street, Herstelling, East Bank Demerara home.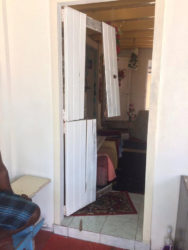 According to Vidyawattie Harrinauth, who resides with her father, Anganath, and mother, Esther, in the home, they were awakened by the slamming of the car doors as the men exited the vehicles. She said they heard the men jumping into the yard and rushing towards the door on the bottom flat of their home.
Stabroek News learned that when the bandits arrived at the door, they began kicking and claimed that they were the police.  However, the family did not open the door because they suspected that the men were thieves.
Not long after, the men broke the door and entered, Harrinauth said, while noting that she and other family members were attempting to hide.
Harrinauth said some of the men rushed to the upper flat and one escorted her father away while two stayed behind guarding her and her mother.  She explained that two men brutalised her father as they made their demands for valuables.  The men broke into a wardrobe and found a quantity of jewellery. While that was happening upstairs, a gunman took her into a room on the bottom flat and demanded cash. After she handed over the cash, she was put to lie on the floor with her mother.
The young woman said she was hit with the gun to her back, while her father was gun-butted to his head and neck.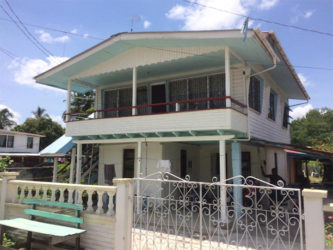 The gunmen told the family to remain quiet as they made their escape. The attack, which was recorded by surveillance cameras, lasted approximately 20 minutes.
The family and residents of the street were peeved at the poor response by police from the Providence Police Station.
Harrinauth said she called and got no answer and when neighbours called the person who answered hung up. She said ranks from the Brickdam Police Station had to respond. She went on to explain about 15 minutes after, officers from the Providence Police Station arrived.
Stabroek News learned that police have revisited the scene to conduct additional investigations. They have access to the surveillance footage of the attack.
Around the Web