As part of its Social Impact Programme employees of Massy Gas Products enhanced the Dietary Kitchen of the Georgetown Public Hospital Corporation (GPHC) by repainting the building during a one-day exercise last Saturday.
A release from Massy said that over 50 employees of the Company participated in the exercise including Chief Executive Officer Shameer Hoosein.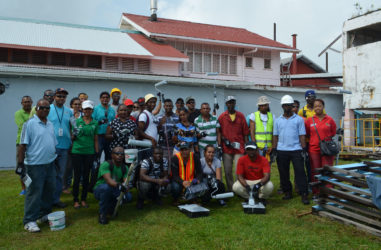 "Georgetown Public Hospital is very important to us and we decided with the executives of the hospital to rehabilitate the cooking facility. Apart from the painting we will also do internal work during the next week," Hoosein said.
He added: "Massy Gas Products realizes the importance of the preparation of meals for patients in the hospital and our employees have been so kind to come out to offer support to this venture to upgrade the facility."
Kamal Harricharran, Director of Facilities Management of GPHC expressed appreciation to the Company on behalf of the management and staff of the hospital.
Around the Web