The Guyana Fire Service (GFS) will be upgrading the Mahdia, (Region Eight)  and Mabaruma (Region One) auxiliary fire services to full fire stations.
Fire Chief, Marlon Gentle, told the Government Information Agency (GINA) that structured fire protection needs to be put in place to meet the ever expanding population needs in the areas.
Mahdia in particular has suffered a number of devastating fires.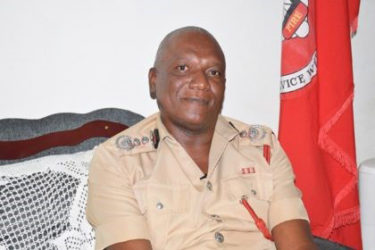 "We understand now the shifting of the population from the coastland to hinterland. Even if we encourage the concept of auxiliary fire service there still needs to have a small component of professional and regular fire services in these areas to provide that immediate support and to also manage the fire protection initiative in these areas," Gentle told GINA.
GINA said that the expansion initiative is part of the GFS's Strategic Plan which seeks to modernise the fire service in its entirety from its operational to administrative capacities.
Gentle told GINA that the GFS is also working with the Central Housing and Planning Authority and other agencies to determine where additional fire stations or auxiliary fire services could be established.
Continued capacity building of fire-fighters is also on the agenda. "Right now we have someone working on updating our training curriculum. We have also gone a far way in developing our training institution at Leonora," Gentle said.
The Fire Chief said that the GFS recognises the need to move into the 21th century with the rest of the country and ranks are being prepared to meet 21st century challenges.
Last year and earlier this year, five GFS officers benefited from training in practical development and instructor qualified training in the UK at the Fire College.  In addition, the GFS recently received a donation of training aid and equipment from its Canadian counterpart to aid in capacity building.
The GFS will also be upgrading its equipment as part of its modernising drive. "One of the goals also is to harmonise and modernise our equipment in that we have the right equipment for the right conditions and that could give us the type of service that is necessary for our environment," Gentle said.
Around the Web