The trial of Devindra Rooplall, who is accused of bludgeoning his drinking partner to death over a gambling row, continued yesterday before Justice Jo-Ann Barlow and a 12-member jury at the High Court in Georgetown.
The charge against the 21-year-old Rooplall is that on January 16, 2014, at Dochfour Village, East Coast Demerara, he murdered Suresh Goberdhan, called 'Bud.' He has pleaded not guilty.
It is the state's case that on the day in question, sometime before midnight, the two had just left a rum shop, where they were drinking, and were heading to another when Rooplall began beating the deceased with a piece of iron over a gambling argument.
According to Prosecutor Siand Dhurjon, the men, in the company of another, Khemraj Persaud, had all left one rum shop and were riding on bicycles to another one, when Rooplall started arguing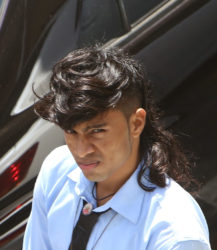 with Goberdhan about winning his [Rooplall's] money.
According to Dhurjon, Rooplall, who was towing the deceased, suddenly dismounted the cycle and started cursing, telling the deceased that he would kill him.
The prosecutor said that neither Goberdhan nor Persaud took the accused seriously and started to laugh at him.
Dhurjon said it was at this point that Rooplall armed himself with a piece of steel, about three feet long, and he dealt Goberdhan several lashes to his head, causing him to fall off the cycle.
State Counsel related that Rooplall then dragged the deceased to Sea Dam, where he continued beating him to the face and about his body, before going into his pocket and taking his cellphone and money.
The court was told that a man, who was sitting on his veranda, witnessed what had transpired and raised an alarm, after which Rooplall fled the scene.
The matter was reported to the police and the accused was subsequently arrested and charged.
The post-mortem certificate in favour of the deceased was tendered and admitted into evidence at yesterday's hearing.
The state's case is being presented by Dhurjon, in association with Shawnette Austin.
Rooplall, meanwhile, is represented by attorney Sandil Kissoon.
The trial continues on Tuesday morning at 9.
Around the Web