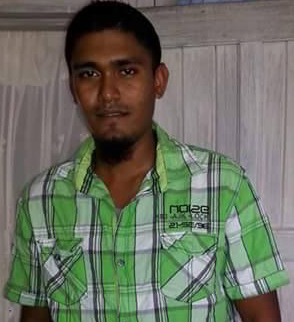 After interrogation, police say two suspects yesterday confessed to murdering the carpenter who was found dead on the Number 70 Public Road just over two weeks ago.
Commander of 'B' Division Kevin Adonis, at a press conference yesterday, confirmed the alleged confessions in the murder of Faiyaz Narinedatt, of Lot 36, Number 70 Village, Corentyne, Berbice.
However, a source close to the investigation further said that the two men, who are from the Upper Corentyne, have implicated an overseas-based businessman as being the mastermind behind the murder. It is unclear whether the police will now consider how the US-based businessman can be questioned in this matter.
The source related that the men in custody told members of the Guyana Police Force's Major Crimes Unit that Narinedatt was beaten until he became unconscious, after which he was placed in the trunk of one of the attacker's car and taken to the Number 70 Village public road. Once there, he was dumped out and run over by a car to make his death look like a hit and run.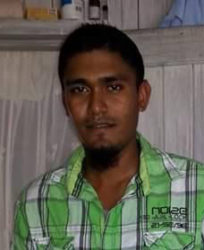 According to information gathered, the overseas-based businessman and Narinedatt were at a party, when the businessman allegedly made sexual advances towards Narinedatt but was rebuffed. As a result, the businessman allegedly ordered his associates to kill the carpenter.
The businessman left the country later on the same day that Narinedatt's body was discovered on the road.
It was Narinedatt family's numerous calls for justice and their refusal to have ranks from 'B' Division investigate the matter which led to the intervention of the Major Crimes Unit from Georgetown.
The family had been told that at the party, Narinedatt was involved in an altercation with the businessman, after which the businessman ordered one of his bodyguards to take him away.
Relatives had said they were told that there was a scuffle between Narinedatt and the bodyguard and that several other associates of the businessman later joined in and allegedly dealt Narinedatt lashes with various objects. Family members said they learnt that Narinedatt fell into a nearby drain but was taken out by the alleged perpetrators, who continued to deal him blows. Afterward, Narinedatt, in an unconscious state, was taken to the Number 70 Public Road in the trunk of one the perpetrators' car, the family was told.
A post-mortem examination that was conducted on the body of Narinedatt had revealed that he died from a fractured skull but had also sustained a fractured spine and other injuries.
Narinedatt was an only child and a father of two. His family is still trying to come to terms with his sudden demise. However, family members are hoping for closure since they now feel that justice is finally being served. Narinedatt was well known as a fun-loving person and a cricket enthusiast.
Around the Web