The Guyana Police Force has contacted its counterparts in the US for access to US based-Guyanese, Marcus Brian Bisram who is wanted for questioning here in connection with the murder of Corentyne carpenter, Faiyaz Narinedatt.
This is according to Crime Chief, Wendell Blanhum who told Stabroek News yesterday that every effort is currently being made to have Bisram returned to Guyana so that he can be questioned as part of the murder investigation.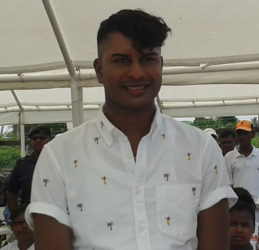 The Director of Public Prosecutions (DPP) on Monday advised the police to charge four men with the murder of Narinedatt. One other suspect, who is said to be the bodyguard of Bisram and who was arrested on Monday in Berbice remains in custody.
The four men, Radesh Motie, Diadath Datt, Harripaul Parsram, and Niram Yakoby all appeared in the Georgetown Magistrate's Court yesterday before Magistrate Ann McLennan and were charged jointly with the murder of Narinedatt.
The police had initially arrested seven persons for questioning last Tuesday, three of whom were released based on advice given by the DPP.
Narinedatt was found lying lifeless on the Number 70 Village public road, Corentyne on November 1 with marks of violence about his body. Investigators were initially treating the matter as a hit and run. However, relatives of Narinedatt pleaded with the police to further investigate the incident as they believed he was murdered, based on information provided to them by eyewitnesses.
A post-mortem examination revealed that he died from a fractured skull but had also sustained a fractured spine and other injuries.
During interrogation, two of the suspects provided detectives with written statements admitting their involvement in the crime. In addition, two detectives from Berbice were also detained for questioning, after they were accused of trying to cover up the matter.  They both denied the allegation and have been released.
Stabroek News was told that on the day before he was found dead, Narinedatt had attended a party at Number 70 Village, which was hosted by Bisram. There was an altercation after which an instruction was passed and Narinedatt was set upon and beaten to death. Bisram left the country shortly after.
It was Narinedatt's family's numerous calls for justice and their refusal to have ranks from 'B' Division investigate the matter which led to the intervention of the Major Crimes Unit from Georgetown.
Around the Web