The Guyana Analyst Food and Drug Department (GA-FDD) has launched an investigation into the improper labeling and use of the chemical Antinfek to treat water at a local bottling company.
Head of the GA-FDD Marlan Cole told Stabroek News yesterday that officers were sent to the company and are expected to do an investigation into whether it is still using the chemical. He also pointed out that the company will have to recall the products with the false labelling and the department is currently giving it an opportunity to do this voluntarily.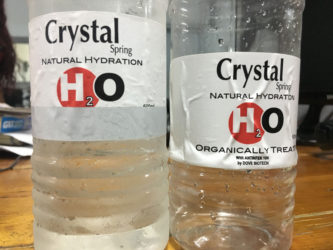 Stabroek News had reported yesterday that the Wieting and Richter Ltd which produces and bottles the 'Crystal Spring Natural Hydration H20' had plastered a small white sticker on the label on the bottle covering a section that reads: 'Organically treated with Antinfek 10H by Dove Biotech.'
The Guyana Water Inc. (GWI) has also been involved in the controversy surrounding Antinfek after it had admitted to using it to disinfect several of its wells.
With reference to GWI using the chemical to disinfect wells, Cole had said that it was a betrayal of the public trust to have been using the chemical when it was not authorized for use. He had pointed out that the department had not approved the use of it on the wells and when GWI had initially enquired about the chemical his department had stated that it should not be applied.
However, in the case of the bottled water, it is being used directly to treat the water.
With reference to the company, Dove Biotech, that is selling the chemical in the country, a source from the GA-FDD explained that it is illegal for the company to be selling the product and making presentations to companies in the country since it is not even registered with the department.
A Wieting and Richter official had explained to Stabroek News on Tuesday that it had opted to cover parts of the label since they had stopped using the chemical in October after the controversy erupted around it. The official further said that it was decided not to discard the Trinidad labels on the grounds of cost.
When Stabroek News tried to contact the manager and operations manager yesterday both were unavailable for comment. However, when Stabroek News checked several supermarkets around Georgetown, the water with the improper labels was still on sale.
Around the Web