Following a meeting with incoming Secretary General (SG) of the United Nations, António Guterres, Guyana was told that he was satisfied with the process the incumbent Ban Ki-moon is undertaking pertaining to the Guyana-Venezuela border controversy.
"We had an extremely cordial meeting with Mr. Guterres who is satisfied with the process underway in which SG Ban Ki-moon is involved," Minister of Foreign Affairs Carl Greenidge told Stabroek News after the meeting last week.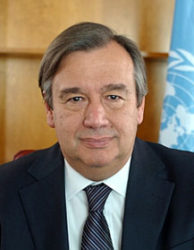 Further, he added, "We are awaiting the decision of Mr. Ban Ki-moon."
Relations between Georgetown and Caracas have deteriorated over the last 18 months since embattled Venezuelan President Nicolas Maduro issued a decree laying claim to most of Guyana's Atlantic waters. The Venezuelan decree had followed closely on the heels of an announcement by US Company Exxon Mobil of a significant oil find in Guyana's waters off the Demerara coast. The Venezuelan decree laid claim to this area.
This sparked a vigorous campaign led by President David Granger to internationalise the issue and up the pressure on Caracas to withdraw the decree. Caracas later withdrew the decree and issued a new one which Guyana still found objectionable.
Subsequently, last September, Granger and Maduro met the UN Secretary-General and agreed to a number of steps.
The Secretary-General has promised an assessment of the situation by the end of his tenure, which will be December 31st this year.
The Venezuelan government has stated that it wants Guyana to agree  to a renewal of the Good Officer process to settle the controversy. However, noting that the Good Offices Process had failed to resolve the controversy over decades, Guyana has been pressing since last year for a juridical settlement which will be final and binding. This is what SG Ban has to decide on.
Around the Web